The chemical storage story
25-03-2014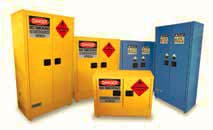 With the wide variety of chemicals in use around Australian industries it's little wonder that for most, the standards and regulations around safe storage of chemicals is bewildering. Further complications arise with the risks involved in chemical incompatibility.
A "dangerous good" is one that presents an immediate hazard to people, property or the environment. For example, flammable or corrosive chemicals. A "hazardous substance" is one where exposure can have an adverse effect on human health. For example poisons or carcinogens. Many dangerous goods are also classed as hazardous substances.
The place to start is the SDS (Safety Data Sheet) which, by law in Australia, will be available for every chemical you have on site. If the chemical is a dangerous good or hazardous substance the SDS will identify that. There are also databases available on line where you can check a chemicals classification.
Why a special cabinet? Approved chemical storage cabinets must be used to store chemicals if you hold more than a specific quantity. Applicable quantity levels listed in the applicable standard. (see list of standards below) The risks associated with chemicals in the event of a fire are critical. Specially designed safety storage cabinets and cages are intended to minimise the risks to personnel and the environment by providing a safe containment of chemicals in the event of a leak but also a barrier in the event of a fire. Good quality cabinets can also be locked to prevent unauthorised use or theft.
Safety cabinets are available in a range of sizes from lab bench sizes like 50 litres through to factory size 350 litre cabinets. Cabinets can also be custom made from reputable manufacturers in Australia such as Global Spill Control.
The following documents apply to the safe storage of chemicals in Australia.
• Dangerous Goods Storage and Handling (Code of Practice No.27, 2000).
• AS/NZS 2243.10:2004 Safety in laboratories – storage of chemicals.
• AS 1940:2004 The storage and handling of flammable and combustible liquids.
• AS 4326-2008 The storage and handling of oxidising agents
• AS 2714 The storage and handling of hazardous chemical materials - Class 5.2 Substances
• AS/NZS 4452:1997 The storage and handling of toxic substances
• AS 3780-2008 The storage and handling of corrosive substances
• AS/NZS 3833:2007 The storage and handling of mixed classes of Dangerous Goods, in packages and intermediate bulk containers.
You should also refer to your State Safety Council for local legislation or your State Environment Protection Authority for advice.
Global Spill Control