Chemical spills: do you have a viable response plan in place?
12-07-2013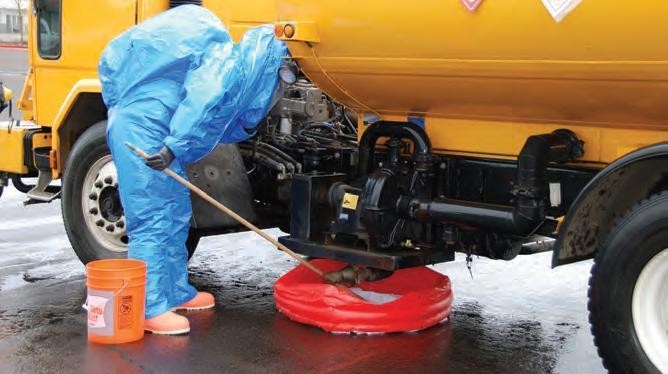 By law, employers are responsible for controlling all risks to health and safety in their workplace.This includes hazardous substances that have the potential to harm workers' health.
Unsafe use and handling of hazardous substances can cause cancer, skin disease, poisoning and respiratory illness.
An estimated 25 per cent of employees in the manufacturing sector regularly use hazardous substances such as chemicals, flammable liquids and gases in their work. They can be solids, liquids or gases, and when used in the workplace, they are often in the form of fumes, dusts, mists and vapours.
And according to Worksafe Victoria there are more than 40,000 chemicals approved for use in Australia.
Many of them are in everyday products found in households and workplaces, including those used to clean pools, colour hair or fertilise soil.
Hazardous substances can be inhaled or absorbed through the skin and can cause both immediate and long-term health problems, including:
• Poisoning
• Irritation
• Chemical burns
• Cancer
• Birth defects
They can also cause diseases of certain organs such as the skin, lungs, liver, kidneys and nervous system.
What determines the level of risk?
The level of risk depends on:
• The substance (i.e. form, concentration, toxicity, health effects, physical and chemical properties)
• The nature of the work (i.e. how the substance is used or handled, quantities, routes of exposure etc)
Employers are obliged under the OHS Act to make their workplace safe.
They must also eliminate any risks associated with hazardous substances in their workplace.
If it's not reasonably practicable to eliminate the risk, they must reduce the risk, as far as reasonably practicable, by:
• Using a less hazardous substance or a safer form of the substance, or
• Isolating employees from exposure, or
• Using engineering controls.
You must review (and, where necessary, revise) your risk controls if things change and there is likely to be an increase in the health risk.
Employers have a duty to consult employees and health and safety representatives when identifying hazards and deciding on control measures.
Regulations in all states impose obligations on manufacturers and importers of hazardous substances who supply them for use in a workplace.
Employers must control any risks at their workplace associated with hazardous substances (and certain substances that are produced or generated from nonhazardous substances such as welding fumes and wood dust).
Companies must take all steps possible to prevent pollution and minimize environmental damage. They must be able to adequately deal with the unforeseen events of a major spill.
Having a viable and realistic contingency plan for spill response and containment is imperative.
If a hazardous spill occurs in the workplace, you must have a tailored solution. This includes effective oil spill response and chemical spill response kits.
With the right emergency equipment you not only ensure the safety and protection of your staff – but also your business.