Chemical resistant bench now with power panel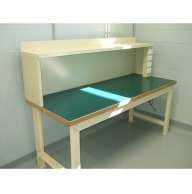 The Actisafe chemical resistant bench has a special high density laminate that resists chemicals, fuels and solvents over a long lifespan.
The Defence Preferred Supplier has designed a chemical resistant bench complete with power panel, suitable for a broad range of applications.
Overall, the entire structure is made to heavy-duty standards to ensure robust performance in the most testing Australian work conditions.
In particular, it is ideal for personnel performing maintenance in the Defence sector, TAFEs and other educational institutions, laboratories and chemical service companies as well as those handling fuel substances in the general engineering sector.
Chemical resistant benches can be made to size according to the needs of the end-user.
Also, the number of power sockets and power boards placed onto each unit can be made to order.
Apart from the laminate coating on the actual work top, the Australian Made Actisafe chemical resistant bench has a powder coated frame that meets industrial standards for heavy-duty performance.
Units can be used as freestanding movable benches or can be bolted to the floor.
The chemical resistant bench is one of a growing list of occupational health and safety products developed by Actisafe for Australian industry – many of which have been chosen by various sectors of the Australian Defence Force.
Actisafe
Ph: 1300 852 397