Materials Handling & Equipment
CHANGING THE GAME AND SHAKING THINGS UP IN THE FORKLIFT INDUSTRY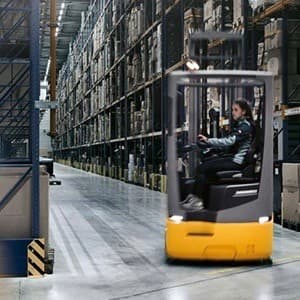 People might think there's been a lot of change in the forklift industry in more than 30 years, but for industry veteran Grant Stewart, Sales and Marketing Director at Jungheinrich Australia that's not the case.
"I don't know what you would expect, but things now aren't that much different from when I joined Crown 33 years ago," he explains. "There's still a lot more competitors and the big winner is the end user, who gets a pile of quotes and everyone drops their prices to win the business. What's changed is the margins on new sales and the rental returns – they've dropped dramatically.
"It's a tougher business now. All the main global players battling for a share of what is a relatively tiny market. It hasn't helped that traditional sales skills are diminishing, so many times the only strategy a salesperson uses is price. And when many suppliers focus just on price, all forklifts are treated as a commodity. What most customers need are materials handling consultants but usually what they get are salespeople looking for a quick sale and commission.
"As an industry we need to move to solving materials handling problems. The forklift is just one element of a broader solution. And it's for this reason I moved to Jungheinrich Australia. I saw a global company that is trying to change the game by developing different technologies and investing in complete materials handling solutions, a company that wants to sell through innovation, not reputation."
The technologies Stewart is referring to are Jungheinrich's intralogistics capabilities. This includes every element including warehouse management systems, conveyor systems, automated guided vehicles, racking, storage systems, fleet management systems, telematics and, of course, forklifts with lithium-ion technology.
In this regard, having both the hardware and the software in its portfolio provides a clear advantage.
Jungheinrich's focus on product development and a 'complete system' approach is working. Global revenue up is 9 per cent on last year and 66 per cent in last 5 years, with this year's order intake increasing by 11 per cent in the first quarter. In Australia, growth in the last 12 months since Stewart's appointment is significant. He credits the recent growth in order intake to two changes.
"Firstly, the comfort in dealing directly with one of the world's largest and most innovative materials handling providers," he says. "We are Jungheinrich – not a dealer. And secondly, the technology of the equipment is providing benefits that satisfy many of the needs of both small and large users. Things like safety and running costs are important to all businesses and the Jungheinrich product offers significant advancements in these areas.
"I joined Jungheinrich because I wanted to be part of a company that finally shakes things up in Australia. We can add real value to end users by understanding their logistics pain points and developing a full turnkey solution all with Jungheinrich products and services.
"It's why I've gone out and got the best consultants, not salespeople, in the industry. I've got the right people with the right products and we are quickly finalising the right level and skill of support capabilities."
"Support services are my main focus now. Because we've won way more business than we anticipated in the past year, we have been caught out and regrettably have let some customers down with response times.
"I recently engaged a marketing agency to survey many of our customers to truly understand how we've been performing from a brand experience viewpoint. They highlighted some key areas of concern and we immediately have set about correcting our weaknesses. And while we have just ordered nearly 50 new Hyundai service vans, this isn't a pissing competition about how many vans are on the road. It's about the right ratio of service techs needed to support each customer's unique needs and meet their agreed customer experience expectations.
"Our customer experience benchmarks will not be formed from the forklift industry but industries that lead the way in this area. I'm looking at organisations like Mercedes Benz, Caterpillar and IBM.
"We recently won a large order because we threw away the forklift rule book and presented the client with a fully flexible offering with a mix of new, refurbished, rental and a unique service level agreement. And we've won orders from industry leaders with advanced logistics capabilities like Woolworths, Coca-Cola, Bollore, Bing Lee, Godfrey Hurst, Bonds, Hello Fresh, Kuehne and Nagle, Packcentre, Ceva and Winc for their entire fleet. We've also won short-term rental orders for the likes of Australia Post. In fact, more than 600 factory orders have been placed in the last couple of months alone.
"So, our approach and advanced technology is working. And at the same time, we are following past values where staff's tenure and skill is as important as qualifications."
Jungheinrich
08 8243 1222
www.jungheinrich.com.au