THE CHANGING FACE OF INDUSTRIAL INTERCONNECTION
03-11-2017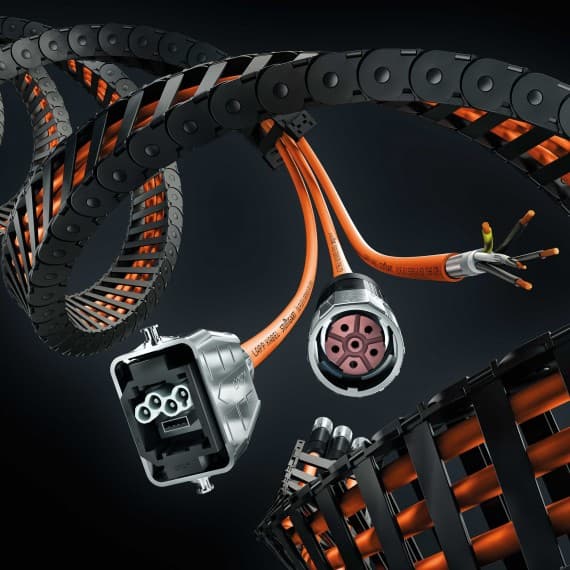 Simon Pullinger of Lapp Asia Pacific looks at some of the trends in interconnection in the next generation of industrial machinery.
The digital revolution on the factory floor is changing the face of industrial communications. With ever increasing processing power available, and even greater numbers of inputs to process, an increasing volume of data needs to be transmitted at increasingly fast speeds. And this is having a significant impact on industrial connection technology.
Robots and other machines are becoming more compact and each machine requires an increasing number of data connections. This has led to the development of a number of special cable designs and technical innovations aimed at saving space, such as hybrid cables that combine the power cable, data cables and even hoses for pneumatics and hydraulics in a single sheath.
Where large data volumes are being transmitted, a single high-speed Cat7 Industrial Ethernet cable can replace several slower cables, and one optical fibre can replace multiple copper cables.
It's not just the cables that are slimming down – the connectors are following the same trend. Circular connectors are getting leaner, and today's modular connector systems combine numerous contacts for different cables in a single housing.
All these changes in speed and size have also required the development of special materials and novel internal cable constructions to enable the cables to handle the industrial environment. With this comes the additional requirement to withstand lubricants, hot vapours and the like, as well as millions of cycles of bends and torsion.
Flexible manufacturing
Manufacturing is also becoming more flexible. The days of the fully dedicated production line for a single product are numbered: manufacturing is becoming more modular and flexible. Individual production modules are exchanged or rearranged in next to no time.
This has major consequences for the connection technology used in machine building. For example, an electrical connection that would previously have been hard-wired and soldered for life will probably now require the flexibility of a connector – and one that can be disconnected and reconnected thousands of times and still create a reliable contact.
These connectors are also becoming more modular, combining power, data and even hoses in a single assembly. Everything needs to be easy to configure and to reassemble again and again, for example if a machine is upgraded.
The complexity and density of the latest generation of cables and connectors have led machine builders to demand more from interconnection suppliers, in the form of tailored ready-to-use assemblies that they can easily incorporate into their machines.
These ready-to-use assemblies are more durable as the supplier guarantees the quality of the entire system, and the user does not have to worry about installation errors such as forgotten end sleeves or damage to the insulation.
With assemblies direct from the manufacturer, customers can also benefit from expert interconnection knowhow and always be sure the technology they use is the state of the art.
There are other trends that may well have huge consequences for industrial interconnection technology.
Powerful arguments
For example, the increasing level of photovoltaic generation in the global energy mix is leading many to question whether the AC power distribution grid will continue to be viable. After all, electronic equipment universally demands direct current, and it is direct current that is generated by photovoltaic cells. The conversion to AC for distribution and back to DC at the point of use involves large energy losses.
However, switching to an all-DC landscape would involve massive disruption. Conventional switches and connectors are not suitable for DC because the polarity of the voltage does not change and there is no arc breakage when switching off - this is hazardous. New connectors and automatic switch-off mechanisms would be needed, but these issues could be resolved.
Also, there are strong indications that the plastics used for insulation and cable sheaths age differently under the influence of the fields generated by direct current. Cable manufacturers are actively researching these issues.
 
Then there is the issue of wireless communications. Surely, the days of the data cable are numbered?
On the contrary: increased electrification and networking in factories will require even more cables to guarantee the high transmission rates. In addition, cables have the edge where data reliability and latency are important.
Because industrial processes are based on strict cycles information has to be reliably transmitted in the millisecond range. This is very difficult to achieve using wireless solutions without disproportionately high costs. Multiple wireless signals can easily interfere with one another and can also be interrupted by moving objects such as forklift trucks.
Cables are also less susceptible to malicious disturbances and hacking. As a result, there is little prospect of wireless technology pushing out cable-based systems - in fact they will increasingly complement one another.
LAPP Express Australia
1800 931 559
lappexpress.com.au