Published 11-06-2019
| Article appears in June 2019 Issue
CERTIFYING PRODUCTS AS 'AUSTRALIAN MADE'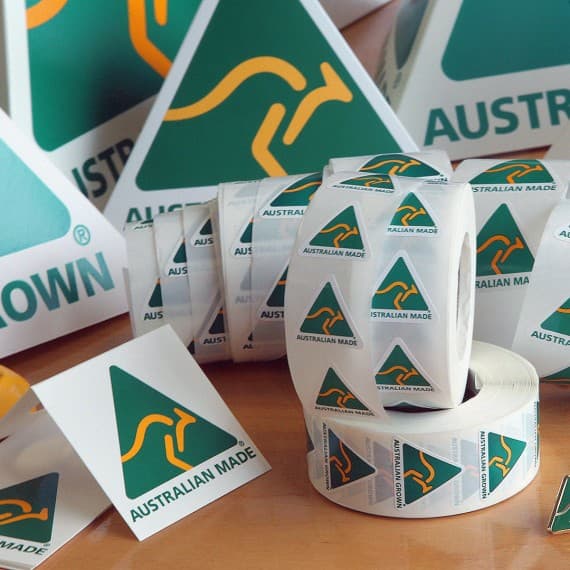 Australian consumers are increasingly concerned about the authenticity and quality of the products they buy, and supporting local businesses. As a result, the number of businesses registering for 'Australian Made' certification is on the rise.
"According to Roy Morgan Research, 90 per cent of Australian consumers have a preference for buying local," Australian Made Campaign Chief Executive Ben Lazzaro says. "So, it should come as no surprise that the Australian Made logo is used by thousands of businesses, on many thousands of certified Aussie products.
"As a registered country-of-origin certification trademark, the Australian Made logo makes the 'Australian connection' instantly and clearly for shoppers. It's a sales solution for businesses who want to quickly and easily identify their products as authentically Australian."
The Australian Made logo is an effective marketing tool for any business growing or making products Australia. Research by Roy Morgan found the logo is recognised by 99 per cent of Australians and trusted by 86 per cent as certifying the authenticity of the product's origin.
The logo extends into international markets and is a registered trademark in China, India, Singapore, South Korea and the USA, with more countries to follow.
Since its establishment in 1999, the Australian Made Campaign has helped thousands of brands communicate their Australian Made credentials with authority and credibility.
"Much of our success is attributed to manufacturing locally," says Benjamin Young, founder and CEO of frank green, which manufactures smart and reusable beverage containers. "When we come up with a product or idea, we are able to run to market very quickly and meet our consumers' needs, we have become obsessed with becoming consumer and product-centric. The product quality in Australia is also amazing, and if on the rare occasion there are any issues, we don't have to ship our stock and wait before we can establish problems, it's always something that we can fix very quickly.
"We wanted a third-party accreditation that showed the values and vision of our company. The Australian Made logo is a statement about what we stand for, and how we choose to manufacture our products.
"We wear the Australian Made logo as a badge of honour. Internationally, people know when they see the logo that we are proudly Australian and that we are built on quality and ingenuity. Manufacturing in Australia adds value to our products and our brand. Displaying the logo has become an effective competitive advantage for our company."
The logo works hard for the brands that carry it, and is at the centre of a multi-channel promotional campaign backed by an extensive PR program. The Australian Made website is the largest directory of certified Australian products for a substantial online audience looking to buy Australian-made products.
Another local success story and a big believer in the logo is Volvo Group Australia, which has produced more than 65,000 Volvo and Mack trucks at its factory in Wacol, in Brisbane's south-west, since 1972.
"Australia is the ultimate testing ground for trucks – heavier loads, longer distances and extreme temperatures," Volvo Group Australia President Martin Merrick says. "We are an Australian company, and we build Australian trucks for Australian conditions.
"What really makes us unique is our local base, with our local engineering, purchasing and manufacturing. People are sometimes surprised to hear that we manufacture Volvo and Mack trucks here in Australia. We also use the local supply chain and have approximately 90 local suppliers.
"The Australian Made logo is iconic and delivers a powerful message. We had to get through an extremely robust third-party accreditation to achieve this fantastic certification.
"Manufacturing our trucks here in Australia really does give us an advantage. We have the skills and resources here at our local base and speaking to our local customers, they are incredibly proud to buy Australian Made."
Certification to carry the Australian Made, Australian Grown logo starts from $300 plus GST for a licence.
Australian Made Campaign
1800 350 520
www.australianmade.com.au