CENTRAL NEW SOUTH WALES COUNCIL GROUP TO SUPPORT HEAVY VEHICLE ROAD NETWORK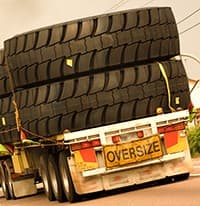 The Central New South Wales council group (Centroc) has announced that it is the first to support a high productivity heavy vehicle road network.
John Gilbert, NHVR Industry Engagement Manager said that the decision by the members of the council to participate in the Performance Based Standards network, means more certainty for businesses.
"This will allow more flexibility in the movement for innovative heavy vehicles which are the workhorses of the freight task in the Central West for agricultural and extractive industries that support local construction jobs," Mr Gilbert said.
"These vehicles can deliver the same amount in less truck trips with reduced emissions and reduced impact on local roads for the same freight task." He continued.
Centroc represents more than 240,000 people covering an areaabout that of Tasmania, that includes Bathurst, Blayney, Cabonne, Cowra, Forbes, Hilltops, Lachlan, Lithgow, Oberon, Orange, Parkes, Upper Lachlan and Weddin Councils.
The Chairman Cr Bill West said Councils have indicated their support behind the PBS network.
"Residents would reap the benefits through safer roads and more efficient local industries," he said.
The decision follows last week's meeting in Orange, where NHVR outlined how PBS vehicles would reduce red tape for local authorities while ensuring heavy vehicles on local roads operate safely and in compliance with the Heavy Vehicle National Law.
"Every route added to the PBS network reduces red tape by cutting the number of permits required," Mr Gilbert said.
"Centroc's member Councils have given consideration to this advice and are supporting the PBS network which means a reduction of hundreds of permits a year in central NSW. The councils involved have embraced the superior performance of the high productivity heavy vehicles administered by the NHVR under the PBS program."