Published 10-12-2019
| Article appears in February 2020 Issue
CENTENARY CELEBRATIONS CHEER CHILDREN'S CHRISTMAS CHARITY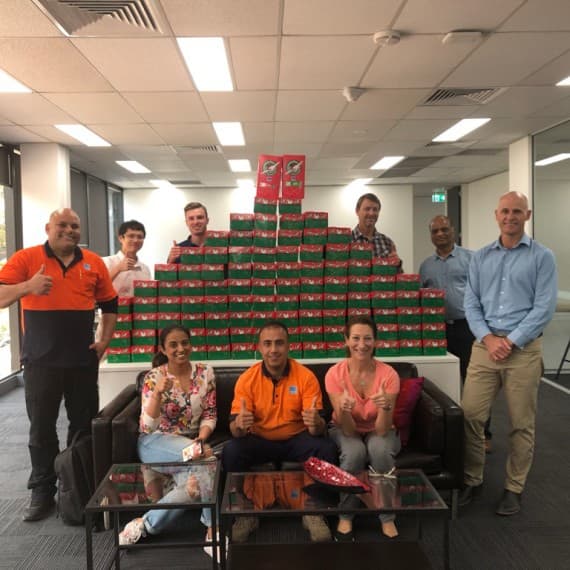 Staff in the offices of NCH Australia have been spending time in the run-up to Christmas packing toys into 100 shoeboxes as part of the company's NCH Cares 100 years celebrations.
NCH celebrated its centenary during 2019, and decided to commemorate the milestone through its NCH Cares programme, which is run across 55 global locations with the goal of contributing to 100 not-for-profit organisations by the end of the year.
After donating to the Buy-a-Bale programme to help Australian farmers suffering through drought, the Australian staff wanted their second project to have a holiday theme.
"We just loved the idea of being able to provide a smile for kids at Christmas time," said Caryanne Cleevely, Marketing Manager of NCH Australia.
Operation Christmas Child sends a shoebox filled with Christmas gifts to children in developing countries. Each box contains something to wear, something to play with, something for school, something special and of course, something to love.
NCH staff in Australia spent a day carefully preparing 100 boxes for 100 kids in developing countries throughout the Asia Pacific region. Carefully choosing what to put in each box based on the child's age, they even included personal notes to the kids.
"Packing the boxes makes you really think about these kids. What would they really love, what would make them really happy this Christmas? It reminds you of what the holiday season is really about," said Cleevely.
With 100 lovingly packed Christmas boxes now on their way to the kids, it's smiles all around at NCH Australia, proving at Christmas time it really is better to give than to receive.
NCH Asia
02 9669 0260
www.nchasia.com