News, Manufacturing Technology
CeMAT AUSTRALIA set to go Digital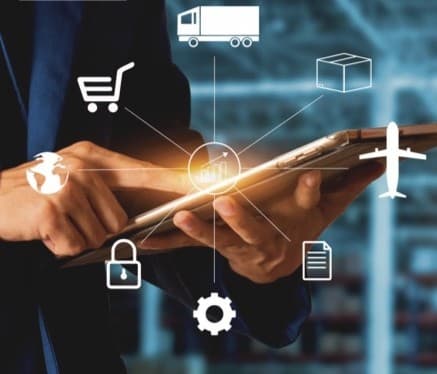 The world's leading trade fair for intralogistics, materials handling and supply chain management will go online this year.
CeMAT AUSTRALIA - DIGITAL is set to go live on February 16th 2021.
This free, one-day event will be a point of connection and learning for the intralogistics and materials handling community.
The action takes place between 9am and 3pm as 35+ speakers and more than 50 solution providers bring you two streams of content to kickstart 2021.
Watch the primer here: https://youtu.be/wjjo42YjbQA
The exciting speaker line-up of experts offering their insights, examples and advice include Anna Reid, GM of General Manager of Operations, Kinrise; Lit Fung, MD of Geek+; Tom Fitz-Walter - Executive Director Supply Chain, TM Insight and many more.
They will cover topics ranging from supply chain resilience to the business case for automation and AI. Attendees will be treated to practical advice on transforming the warehouse, digitising the entire supply chain, and creating an inventory strategy.
Experts will be on hand to demonstrate the technology and tools enabling businesses to scale up their capabilities, meet faster turnaround times, achieve greater safety compliance, make better decisions and more.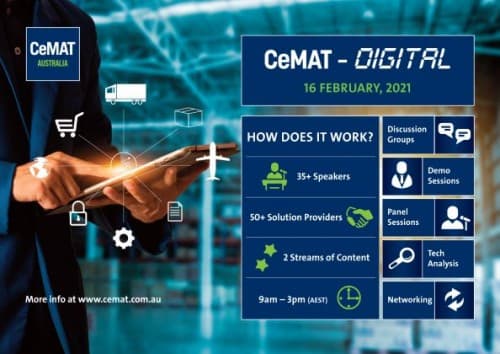 CeMAT AUSTRALIA – DIGITAL is being produced to bring together this vibrant network of enterprises that form the backbone of our economy.
The event has been designed to ensure the continued enhancement of those stars of the intralogistics and materials handling industries and there are plans to return to the normal CeMAT AUSTRALIA format in July 2022.
"CeMAT Australia – DIGITAL represents a fantastic opportunity for the warehousing and supply chain community to join together and to discover the trends that will drive business in 2021," says Event Director, Daniel Mortimer.
"A mixture of thought leaders, industry experts and suppliers will offer insight and reflection on intralogistics and automation content.
"We're looking forward to delivering an outstanding free online event filled with ideas and knowledge that will prove advantageous during the year ahead."
Held in six countries, CeMAT showcases cutting-edge product demonstrations on the showfloor with visitors able to access a Solutions Theatre, which will offer attendees practical take-away solutions to challenges facing end users in the logistics and warehousing industry.
Register now at www.cemat.com.au for the virtual event and access exclusive content from the leading brands in the industry - including case studies, panel discussions, fireside chats and tech demos.