CeMAT AUSTRALIA CONFIRMED FOR MELBOURNE 2016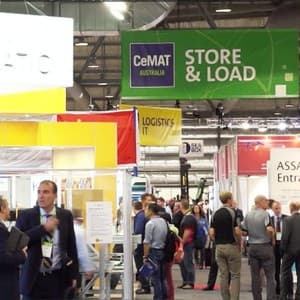 CeMAT AUSTRALIA, Australia's largest intralogistics and materials handling show, will open for the first time in Melbourne next year, following its inaugural launch in Sydney in May.
The show will focus on education, interactivity and innovation.
The three-day show, which covers the best in supply chain management, materials handling and intralogistics will be held at the Melbourne Convention and Exhibition Centre, from July 12-14.
Confirmed sponsors include DEMATIC, SWISSLOG and CHEP.
Exhibitors include Kobot Systems, TVH and Headland Machinery.
And for the first time CeMAT AUSTRALIA will host the National Forklift Championship Finals 2016, organised by the Australian Warehousing Association.
CeMAT AUSTRALIA is the leading technology and service provider in the materials handling and warehousing industry.
The show offers an outstanding opportunity for the materials handling industry to meet, exchange ideas and learn about future trends.
Companies can learn how to increase efficiency in the supply chain to reduce overheads through IT solutions, automation and innovation.
Next year's show will be spearheaded by Sarah Haughey, Show Director for CeMAT AUSTRALIA at Hannover Fairs Australia, a wholly-owned subsidiary of leading global trade fair company Deutsche Messe, organiser of the world's largest international trade fairs.
Ms Haughey says the event will focus on interactivity, education and knowledge exchange to allow the industry to keep abreast of future innovations.
"CeMAT AUSTRALIA is an unmissable event for the materials handling and intralogistics industry," Ms Haughey said.
"The sector is very time poor, so this show presents a critical opportunity for leaders to gather to explore future trends and innovations that will allow them to stay competitive in an ever-changing marketplace."
CeMAT AUSTRALIA includes the LINDE Knowledge Theatre as part of its exhibition offering. Up to 30 presentations by market leaders will be held during the three-day show.
Attendees will hear how industry pioneers have overcome problems and implemented leading solutions, nationally and globally. 
"The 2016 show will outline real life situations where technology, integration and IT solutions has been used in an innovative way to overcome the challenges facing the industry," Ms Haughey said.
Harvey Stockbridge, managing director at Hannover Fairs Australia, said: "Appointing Sarah to the dedicated position of being responsible solely for the CeMAT AUSTRALIA show demonstrates our commitment to the industry and shows how invested we are in the intralogistics and materials sector, to ensure positive growth across Australia."
Companies interested in exhibiting at CeMAT AUSTRALIA should contact: sarah.haughey@hannoverfairs.com.au
For more information visit: www.cemat.com.au