Celebrations as Krauss Maffei installs 2000th MX (Large Tonnage) Injection Moulder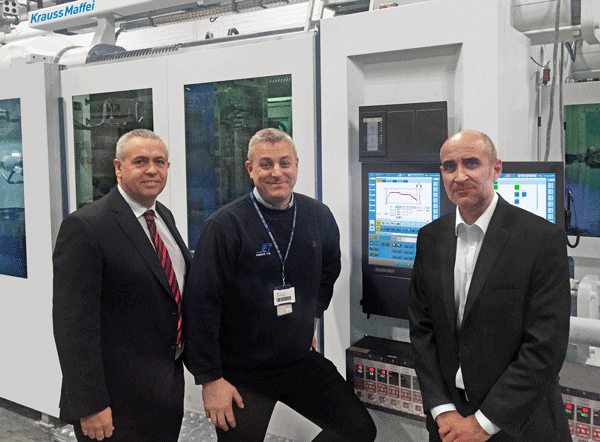 Krauss Maffei of Munich Germany, have recently installed their 2000th MX Injection Moulding machine worldwide, for Sanko Gosei in Lancashire UK, a major supplier of components to the automotive industry.
The MX 1300 has a clamping force of 13,000kN and an additional bolt-on injection unit in L design for manufacturing hard-soft components out of PP and TPE for automotive parts. The LRX 350 Linear robot with space saving longitudinal discharge has been supplied to support the automation.
"The Krauss Maffei MX series features outstanding repeatability and a stable process control. This makes it a perfect match for the strict quality requirements of the automotive industry and especially Sanko Gosei" said Mike Bates, MD for Krauss Maffei UK.
 The MX series spans clamp tonnages from 800 ton to 40000 ton and feature hydro-mechanical twin-platen clamping units, are compact in design, fast in production and require very low maintenance. The clamp locking system is designed for short cycles with precise positioning and the injection unit scores points with its high melt quality and superb shot weight consistency,
Krauss Maffei is represented in Oceania by HBM Plastics Technologies.