CELEBRATIONS AND CALIBRATIONS AT NEW KEY SITE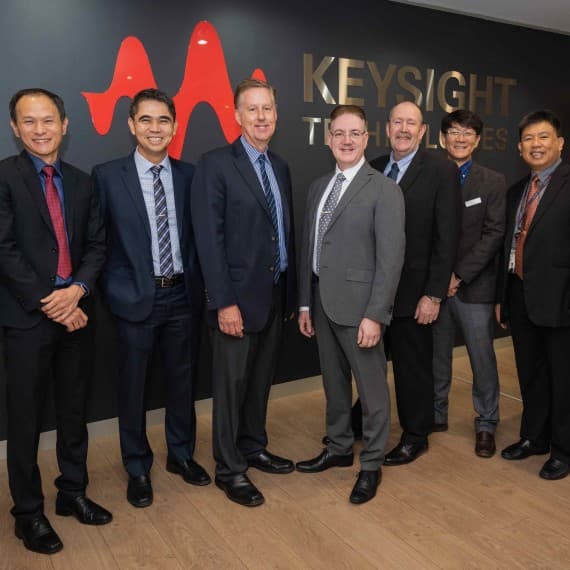 Lawrence Liu, Bor Chun Gooi, John Page, Steve Karandais, Keith Baucke, Sang Ho Oh and Kuan Gin Voon, Keysight Australia, Asia Pacific and Global
Keysight Technologies Australia performs more than 16,000 calibrations a year for a growing list of Keysight and non-Keysight electrical, physical, dimensional and optical instruments. It has opened a new site in Mulgrave, in Melbourne's south-eastern suburbs, to offer a one-stop shop for all its customers' calibration needs.
Following the acquisition of Thales Calibrations Services in late 2018, Keysight has combined the two sites into one that includes administration, sales and marketing, testing, repair and logistics. The new site means that customers can obtain services for all instruments from one supplier to improve operational performance, reduce logistical complexity and improve turnaround time.
With the two companies now truly combined, existing and new customers can easily leverage the capability made possible by the Thales acquisition, all backed by more than 65 years of continuous National Association of Testing Authorities accreditation.
"Customers in all industries are currently being challenged by new technology and devices, many of which need to be tested with high performance instruments that need to be calibrated," Keysight Australia General Manager Steve Karandais says. "The equipment may come from different vendors and have different maintenance schedules which all need to be tracked and managed, and this is only set to increase in the future. With the businesses now combined, Keysight is looking to offer extended services for all equipment vendors to all customers to fuel growth in the region."
A poor or incomplete calibration can lead to significant errors in measurements. Further, the time to develop a product may exceed original schedules and production yields may be too low if the test instruments are not performing to specification. If test instruments are not measured to the right specifications during calibration, the devices being tested are at risk, which can be costly.
"A detailed calibration report is the only way to verify that instruments are performing to specification," Keysight Australia Services Business Manager Keith Baucke says. "Keysight's customers can be confident that we have the knowledge and expertise, backed by ISO 17025 accreditation, and now the combined site, to meet all of their calibration, asset management and support services needs in one place."
Keysight Technologies Australia
1800 225 574
www.keysight.com