Celebrating 55 years behind the wheel: Richmond Castors is still on a roll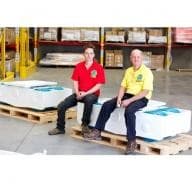 After nearly 50 years, Ray Winslow, the driving force behind leading materials handling company Richmond Castors, has never lost his passion for making wheels.
And when it comes to manufacturing and designing heavy-duty wheels and rollers, Richmond has no peer.
This year marks the 55th anniversary of this proud Australian-owned company.
Richmond prides itself on its ability and ingenuity to conceive and deliver high performance products for industry.
The company continues to offer complete design and manufacturing solutions for wheels and rollers.
The third generation family-owned business started from humble beginnings in the Melbourne suburb of Richmond (hence the name).
The company began as a manufacturer of hydraulic materials handling equipment such as pallet trucks, stackers, both manual and electric and distributed under the trading name, Lift'n'Move.
In 1961 the business moved to the southeastern suburb of Clayton where it could grow and develop.
As well as Melbourne, the company now has offices in Sydney, Brisbane, Adelaide, Perth and Auckland NZ.
CEO Ray Winslow joined his father's business soon after leaving school.
At the same time he was enrolled at university, studying to become an engineer.
In 1972 he joined the business full-time and not long after began running the business.
"In the early days we were manufacturing hydraulic materials, he recalls. "We were a material handling company that made equipment such as pallet trucks and stackers.
"In the late '70s we began to realize there wasn't a great future in producing goods that could be imported from overseas at a much cheaper cost.
"So we changed our focus to the wheels, castors and rollers business. 
"We are now one of Australia's major manufacturers and suppliers of wheels and castors."
Mr Winslow says Richmond is much more than just an engineering company focused on wheel and castors. Its main point of difference is the ability to provide total solutions.
The key to the company's great success is the supply of customized products for a wide variety of applications.
"We have a highly experienced engineering team that can design specialist products, says Mr Winslow.
"It is a very rare week that does not have us making something new which is always a thrill, he says.
"When it comes to wheels, we can provide a total solution … we build specialized wheels for difficult environments.
"We love making wheels for people. This is the core and passion of our business.
"I have never lost that passion. I still love it."
Mr Winslow says Richmond's advantage in the market exists in many areas.
"We have the most experienced sales team with a combined experience of over 200 years, he says. "This team is supported by an engineering team of three, with all the Design software and manufacturing capacity required.
"In addition, we have the financial muscle to carry huge stocks, which we hold in our
facilities all around Australia.
"And finally, we have an entrenched philosophy of can do and nimbleness that keeps Richmond fresh and resilient."
After nearly 50 years in the business Ray Winslow has decided to take a back seat.
Ray was chairman of the company for 25 years and has now taken the role as chairman.
His son Breon now heads the production and engineering arms of the business.
Though the company maintains it focus on wheels and bearings it still supplies a broad range of material handling products.
That includes:
Conveyors
Hydraulic table lifters
Battery electric table lifters
Skates
Safety cages
Trolleys and handtrucks
Pallet trucks
Stackers
Skid lifters
Tugs
Plastic tubs
Wheelbarrows and garden carts
It also supplies a wide range of bearings including:
Precision belt bearings
Flange bearings
Roller bearings
Richmond Wheel and Castor Co has employed our design and manufacturing excellence to provide the Australian Pipeline Industry with complete engineering solutions for vastly challenging pipeline projects, from design to manufacture in water, energy and resource industries.
Richmond is the recognised market leader in the polyurethane pipe rollers and custom polyurethane mouldings. Our pipe rollers, pipe supports and pipe systems help ensure that any design or installation is achieved safely.
While predominantly manufactured in various polyurethane hardness, steel or nylon, pipe rollers can be manufactured from a variety of other materials to suit specific pipe diameters, capacities and the most arduous environmental conditions.
A state of the art in-house polyurethane plant, including multiple polyurethane machines and ovens allows for tonnes of material to be processed every day with the highest standard mix and air-free consistency. The flexibility not only to produce product tooling in-house, but to machine pour different materials and the same time clearly separates Richmond from others.
Richmond has built a world wide supply chain that provides components and products that can be supplied ex-stock.
In house manufacturing is a critical part of that supply chain.
"We are proud of our ability to design and make wheels and castors and continue to invest in the process, says Ray Winslow.
Richmond Wheel and Castor Co
Ph: 1300 474 246