Published 30-06-2020
| Article appears in June 2020 Issue
CATCH THE EYE WITH CM WIDE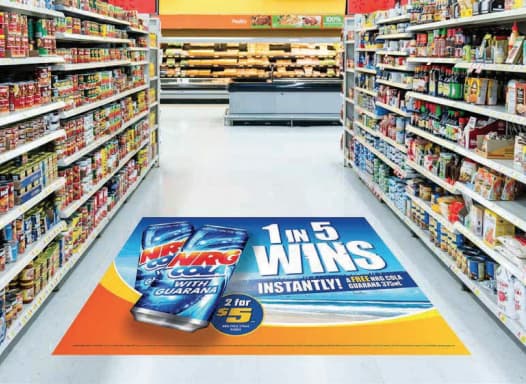 New from Cheque-Mates, the CM Wide HP Wide Format Latex digital print equipment produces extremely high-quality print on a diverse range of wide-format media.
With their epic scope and generous advertising real estate, wide-format print products are an ideal way to expand and enhance your service offering to new and existing customers.
The CM Wide team – a part of the Cheque-Mates brand – has partnered with HP for the initiative, which provides wall and floor coverings that are suitable both indoors and outdoors.
Your company's graphics can make an impression as a mural, a poster, a decal or even as textiles. From magnetic signs to window stickers to cinema-style poster to wall and floor graphics, there's a canvas for your brand in the CM Wide range.
Lately there has been enormous demand for social distancing flooring stickers. CM Wide produces these on an anti-slip product designed for Australian standards.
Whatever your desired application, CM Wide has the signage to make your brand pop. Backlit or illuminated applications add an extra dimension to your visuals, and the possibilities in creating eye-catching light box displays are virtually endless.
You can even take your show on the road with 'moving billboards' – durable, bright vehicle graphics that are easy to apply and hard to ignore.
The widest canvases can feature your signature look: CM Wide can create construction and site signage that, when emblazoned along fences, transform a forbidding worksite into a statement for your brand.
CM Wide's bold visuals can help businesses stand out in trade shows with arresting displays suspended high above exhibition floors.
Even underfoot, your brand can stand out. CM Wide's floor graphics - as tough as they are colourful – can motivate impulse buys and drive traffic even in the most sprawling retail outlets.
Increase your margins and unlock additional revenue streams with the CM Wide series of wide-format print and marketing solutions. Whatever your surface, CM Wide has the solution.
Cheque-Mates
02 9743 9547
www.chequemates.com.au