Published 19-08-2019
| Article appears in August 2019 Issue
CASTORS ARE OUTSTANDING IN THE (MAGNETIC) FIELD
A magnetic resonance imaging (MRI) machine generates high-resolution images using strong electromagnetic fields, measured in Teslas. Machines up to 3T are currently standard in hospitals, but for greater accuracy of detail, machines generating even stronger magnetic fields are increasingly being used.
As a result, any magnetic objects are prohibited in the vicinity of MRI units as they might pose a threat to staff and patients due to the enormous forces of attraction involved.
RCN Medizin & Rehatechnik has been producing nursing aids for more than 30 years and now employs about 100 people in factories in Germany and the USA. It develops and manufactures a wide range of products for everyday care, including shower stools, walkers and wheelchairs, as well as products meeting the strict requirements for use near MRIs up to 3T.
Standardised white plastic tubing is used to make infusion stands, transport chairs and couches, and nonmagnetic brass is used for mounting fixtures and ball bearings in castors.
However, for examinations using MRI machines from 7T upwards, the approval requirements for furniture and equipment are more strict, and even brass is not allowed. Indeed, in some countries there are metal-detecting security gates on the hospitals' MRI departments.
As a result, RCN also manufactures products that do not contain any metal components at all. And in the case of mobile equipment, this places some stiff constraints on the castors used.
Tente's Levina scan castors are fully metal-free, and so have no residual magnetism, guaranteeing the highest level of safety. They have a higher load-bearing capacity than castors containing brass, carrying weights up to 80kg.
For RCN's applications, Tente has adapted the castor stems to fit the company's standard
 plastic tubes and the castors are secured with a plastic screw on the frame so that the stem cannot twist. They are available in 100 and 125mm sizes, in a simple swivel castor or as
 a swivel castor with total locking.
The solution also offers valuable advantages for RCN's international business. Each country has its own regulations governing the use of products in an MRI environment, but fully metal-free products can be used worldwide without restriction, so extensive research into country-specific regulations is no longer necessary.
As a bonus, RCN can use the Levina castor on equipment for other metal-free areas, such as research facilities or near to security gates at airports.
Stand and deliver
Elsewhere in the medical world, infusion stands have their own specific operational and design requirements.
In recent years, many hospitals in industrialised nations have modified their architecture and interior design to make patients' treatment time more pleasant, especially young patients. Bright and spacious entrances and waiting areas, larger rooms, sound insulation and the use of bright, radiant colours create a pleasant atmosphere for children and their parents, to promote healing.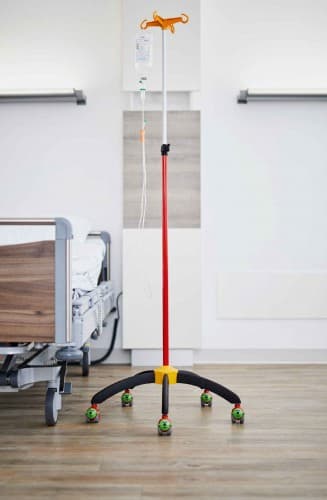 German company provita medical produces innovative products and solutions for a wide range of applications in the medical sector, and is regarded as a trusted original equipment manufacturer worldwide. It employs more than 100 people and has a tradition going back more than 45 years. One of its novel products is a colourful infusion stand for children, which is equipped with Smiles castors from Tente.
One of the most important roles for an infusion stand is to help keep patients mobile, and the Smiles play a leading role here. They enable children to move about freely during an infusion, which has a positive effect on their wellbeing. The sooner patients are on their feet, and the more active they are, the sooner they will recover.
Working with a provita medical designer, Tente created the castors especially to suit the colourful and lively world of children's wards. Their playful design includes the lovable faces of a mouse, cow, aeroplane or bear, intriguing the young patients and encouraging them to leave their hospital chairs or beds.
They also meet the strict hygiene and safety requirements of hospitals, just like the infusion stands to which they are fixed. They are very easy to clean, and are available with various mounting options and treads for soft or hard floors.
Furthermore, they guarantee stability on uneven surfaces and sloping floors and ensure that door and lift thresholds can be crossed effortlessly. They can be produced in one or different colours, and supplied lacquered or printed, as required.
And even when children leave hospital, Smiles castors on toy containers, chests of drawers, chairs or beds can keep their smile going at home, too.
Tente Castors & Wheels
1300 836 831
www.tente.com.au