Materials Handling & Equipment
CASTOR LOCKING SYSTEM IS ADAPTED TO NATIONAL DEMANDS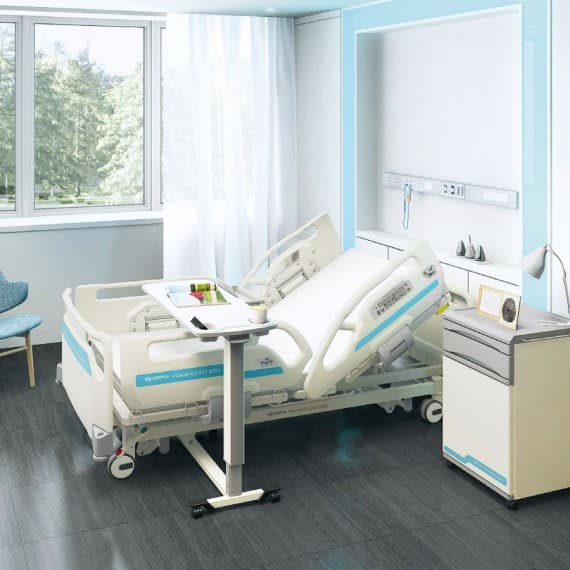 The Japanese traditionally sleep on a futon mat on the floor, and this poses an interesting conundrum for the design of hospital beds in that country, particularly in integrating a braking system. Working with a Japanese hospital bed manufacturer, Tente developed a tailor-made solution that overcame these challenges, while also improving work processes along the way.
Paramount Bed has been in business for more than 70 years, establishing its position as a market leader in Asia and now supplying 90 countries around the world.
There are differences between hospitals and hospital beds internationally. In Europe and North America, the corridors are wide and the wards are spacious, and the beds tend to be bigger than in Asia. Hospital beds in Asia are compact and low in height and need to be easy and safe to manoeuvre within the small amount of floor space available.
Despite these differences, all modern hospital beds are fitted with a central braking system with a lever for nursing staff to operate the castor locking mechanism, ensuring that the bed remains securely in place.
The pedal for the brake is located at the height of the castors, so nursing staff can easily operate it even when the bed is in the lowest reclined position. The nursing staff use the lever to apply the brake, operate the directional lock and release the castors. So typically there are three switching positions, each requiring sufficient space for the braking system to function safely.
Tente's system for Paramount does not have the directional lock, so it has only two switching positions and a switching angle of well below 30 degrees. This gives Paramount valuable additional centimetres in order to be able to lower the bed to a height of just 20cm. And thanks to the reduced switching angle, the beds can use larger castors, which means less running friction.
Tente also changed from a friction-based locking mechanism to a keyed system in which the teeth interlock. This requires lass operating force than the traditional version.
Tente's designers had to achieve gentle actuating forces in both switching directions, but also guarantee the lever would stay fixed in the released position in order to prevent accidental locking. The new system both guarantees safety and cuts down on complexity and effort.
Another significant advantage for Paramount is Tente's international presence, with direct service provided by its Japanese subsidiary based in Tokyo.
Tente Castors & Wheels
1300 836 831
www.tente.com.au