CASI ticks all boxes when it comes to picking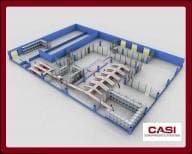 Cornerstone Automation Systems CASI specializes in end-to-end order fulfilment systems. 
From basic order picking to fully integrated shipping systems, CASI helps customers realize rapid ROI through labour savings and efficient solutions.
Software is the heart of any automated systems. CASI has developed SolidSuite – a suite of pre-engineered software modules that provide unsurpassed performance and serve as the foundation of our industry leading solutions. 
Based on the Microsoft Windows 7 platform, it is designed, written and supported by CASI in-house engineers. With hundreds of successful installations worldwide, SolidSuite offers superior features. 
These include automation systems, checkweigh systems, sortation systems, barcode/RFID verification, labelling/print and apply systems, wireless control systems (WCS), software cubing systems, manifesting systems, picking systems, robotics, conveyor systems (24V & lineshaft), controls and engineering and Automatic Box Opener.
CASI follows a unique development cycle that ensures the success of each project. Their world-class service and technical expertise have laid the foundation for success and triple digit growth over the years. 
This growth can be largely attributed to the company's customer retention and a commitment to continuous improvement in all areas.
CASI offers order picking systems from the most basic pick and pack systems to state-of-the-art automated systems. 
It also offers a full line of technologies to automate order fulfilment requirements, ranging from operator assisted to fully automatic fulfilment. 
CASI applications engineers are experienced in order picking system design and are available to assist in the design of your system.
CASI understands that order picking methods vary as greatly as the distribution centres that methods are used in. 
The characteristics of the product being handled, total number of transactions, total number of orders, picks per order, quantity per pick, picks per SKU, total number of SKUs, value-added processing such as private labelling, and whether you are handling piece pick, case pick, or full-pallet loads are all factors that will affect your decision on a method for order picking. 
In many cases a combination of picking methods is needed to handle diverse product and order characteristics.
The selection of the picking methodology should reflect the productivity in picks per hour, the cycle time for the order to get to the shipping dock and the accuracy of the method. 
CASI offers multiple picking methodologies in its SolidPick module, allowing CASI application engineers to match the picking methodology to the operation and ROI requirement.
Cornerstone Automation Systems
Ph: 1300 79 22 17