CASI celebrates Aussie birthday
31-08-2010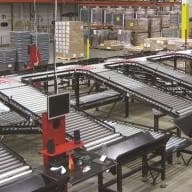 The CASI ANZ Pty Ltd company started only two years ago in Australia, but has already reached great heights.
CASI designs and implements state-of-the art materials handling, packaging, order fulfilment and warehouse automation. 
So what's their point of difference? 
CASI is not a reseller of equipment sourced elsewhere. It is a unique systems manufacturer – hardware, software, and controls are designed, engineered and built in-house. 
With CASI's customised service clients have infinite flexibility. 
They can choose from 24V conveyor systems, check weighers, cubic dimensioning systems, sortation, automation systems, distribution solutions, order fulfilment, labelling, robotics, software and PC/PLC materials handling controls.
CASI products can assist companies to coordinate material flow through large manufacturing operations, warehouses and distribution centres.
Managing Director, John Brittain launched CASI in Australia and NZ with the aim of providing industry with unique productivity and safety improvements. 
John understands the new needs of larger through-puts and warehouse efficiencies in the current E-business world.
With CASI ANZ he provides an unmatched service throughout Australia and New Zealand.
Cornerstone Automation Systems
Ph: 1300 79 22 17