CARGO FLEET MANAGEMENT SYSTEM INSTALLED AT OMAN AIRPORT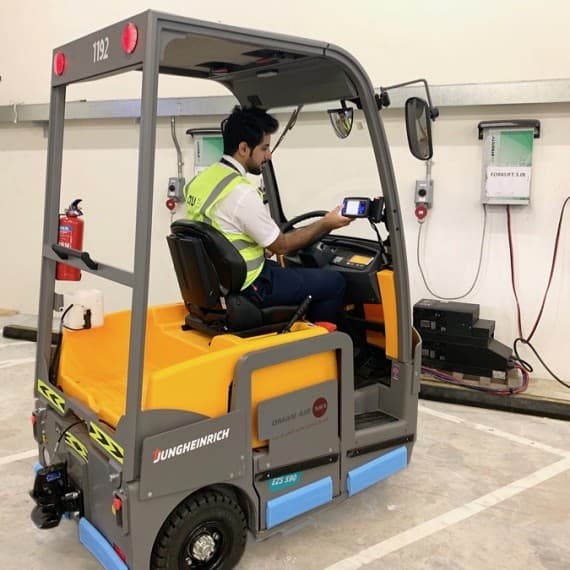 Perth-based Remote Control Technologies (RCT) has successfully installed its fleet management system SmarTrack in the first stage of a project at Muscat International Airport in the Sultanate of Oman.
The project is a result of Oman Air SATS Cargo, the premier cargo operations handler at the airport, upgrading to electric tow tractors and counterbalance forklifts, including a fleet management system.
RCT and International Heavy Equipment, the Oman dealer for Jungheinrich AG, a German-based materials handling equipment manufacturer, successfully fitted SmarTrack to six Jungheinrich EZS 590 tow tractors and 10 EFG220 counterbalance forklifts.
SmarTrack collects and reports live operational data for each machine in a fleet, giving site managers quick access to key production and maintenance performance indicators as well as real-time notifications of heavy impacts or damage to machines.
RCT Senior Business Development Manager, Industrial Grahame Don says the company is pleased to have successfully commissioned the product for International Heavy Equipment and Oman Air SATS Cargo.
"SmarTrack will deliver significant benefits for the end user including efficiency gains for site and fleet managers, compliance from operators and cost reductions due to less machine maintenance and repair works," he says.
"The product provides for a multilingual checklist, which in this case will be provided in English and Arabic to machine operators."
International Heavy Equipment Sales Engineer, Jungheinrich Mohammed Shahid says the company is delighted to partner with RCT on fleet management solutions and hopes to continue this business relationship in the future.
"We are pleased with the application of SmarTrack due to its ease of integration with the Jungheinrich system and successfully catering to the operational needs of our client."
Oman Air SATS Cargo Chief Operating Officer Henry Christopher says he is delighted that the technology has been implemented into its operation.
"The SmarTrack fleet management system will provide Oman Air SATS Cargo managers with key data in real time that will enable us to make informed decisions to benefit our operations," he says.
"I look forward to working with RCT in the future to help deliver quality solutions to our air freight handling fleet."
In February and again in May this year, RCT Technical Support Manager, Industrial Matt Ingram and International Heavy Equipment representatives jointly delivered training on the new machines and the SmarTrack system to Oman Air SATS Cargo management and machine operators.
Remote Control Technologies
08 9353 6577
rct-global.com