CARBORUNDUM NOSINGS PROVIDE AFFORDABLE STAIRWAY SAFETY
17-08-2017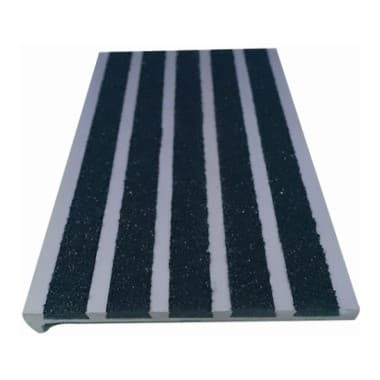 Stair nosings have been used for many years to enhance stairway safety. However, in recent years the rubber materials traditionally used for this role are being replaced with carborundum inserts, especially on external stairways where pedestrian safety becomes of paramount concern.
Carborundum offers the best combination of high grip and low wear, and is virtually immune to moisture while offering improved performance in the presence of other slip hazards, such as oil and grease.
For some time high-cost stair nosing products have been available that incorporate four or more carborundum strips rebated into several styles of aluminium profiles. And while these are excellent products, in many cases they are beyond the budgets of most contractors and clients.
Floorsafe Australia is sensitive to these cost considerations, and always considers the affordability of its product ranges. This is just one of the reasons why builders, contractors and architects continue to chose Floorsafe products because the company focuses on producing and providing quality and reliable solutions at an affordable cost.
The company has worked closely with its aluminium partners to address the cost constraints of the market, and has come up with a range of very affordable carborundum stair nosings that meet the requirements of the Australian standards and building code of Australia.
Neatly rebated hard-wearing carborundum strips are moulded into a high-quality aluminium profile, which is also anodised for extra protection. With all the benefits that this new range of stair nosings has to offer, Floorsafe Australia can now provide a quality long lasting safety product at a price that's affordable.
Floorsafe Australia
1300 717 769
www.floorsafe.com.au