CARBON COMPOSITE COMPONENTS CHOSEN FOR X-RAY SYSTEM
16-12-2016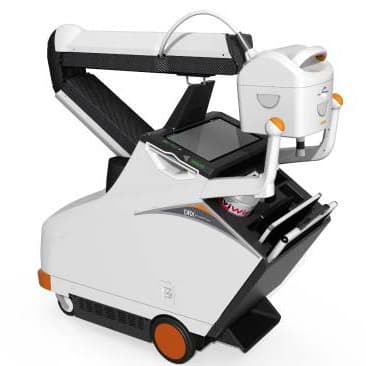 The Micro-X DRX Revolution Nano
Micro-X has selected Quickstep Holdings to manufacture a range of carbon fibre composite components for its new ultra-lightweight portable X-ray system.  At just 85kg, the DRX Revolution Nano is significantly lighter than the cumbersome 500-600kg machines used traditionally in hospitals.
Micro-X expects to begin production in Q1 2017 at its new production facility in South Australia, where it is setting up a plant with a capacity for around 1000 unit a year. Each X-ray unit will contain nine composite assemblies.
Quickstep's CEO and Managing Director, David Marino says: "We are delighted to be working on Micro-X's game changing medical device technology. This demonstrates the flexibility of Quickstep's composite manufacturing solution. After our technology advances in the past year, the Qure moulding and curing process has the throughput capability to manufacture high-quality components in volume."
According to Peter Rowland, Managing Director of Micro-X: "Quickstep's advanced composites manufacturing capabilities provide us with a higher production rate than traditional autoclave solutions. Their technology has already demonstrated the ability to manufacture lightweight carbon fibre composite parts that meet the high-level quality and part performance required for the advanced medical device sector globally."
Micro-X has completed regulatory testing of preproduction units.
Quickstep Holdings
02 9774 0300
www.quickstep.com.au