CARBON CAPTURE DEVELOPER SECURES ADDITIONAL CAPITAL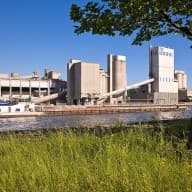 In January last year, Australian technology company Calix secured EUR3.4 million in working capital from Efic to build the CO2 capture facility for the Low Emissions Intensity Lime and Cement (LEILAC) project in Belgium.
Efic, the Australian Government's export credit agency, is a specialist financier that delivers simple and creative solutions for Australian exporters. Its aim is to assist Australian businesses by helping them to win business, grow internationally and achieve export success.
Calix has recently agreed on a new EUR1.5 million facility with Efic in support of the project, which will support the financing of the project through to the end of February 2020. The project is fully covered by the EU Horizon 2020 scheme, but the timing between project expenditures and grant drawdown means that Calix, as the project co-ordinator and key leader of engineering, construction and operational contracts, requires some working capital support. The new facility will help it fulfil this funding need without any drawdown of its working capital.
The project has entered the commissioning phase, which is progressing well and will end soon, on time and within budget. This will be followed by initial test runs to 'fingerprint' the reactor, then a longer evaluation phase covering multiple processing conditions to the end of 2020.
Efic Associate Director Business Development Charith Amarasinghe says, "Efic was pleased to assist Calix with working capital to support Project LEILAC. This is an important project that uses Australian technology to enable the reduction of carbon emissions in cement production."
Calix Managing Director Phil Hodgson says, "We really appreciate the support Efic has provided us for the second time with the LEILAC project, and the third time overall in support of our export development."
Calix's other projects include a Material Transfer Agreement with a multinational crop protection company, for Calix's safe, sustainable crop protection product BOOSTER-Mag, and the entry into the Chinese market of AQUA-Cal+, Calix's water conditioner product for improving yields and disease control in aquaculture.
BOOSTER-Mag is targeting a total addressable market of over US$10 billion as chemical crop protection products come under increasing sustainability pressures. Calix's commercialisation strategy for BOOSTER-Mag, which it commenced in 2017, is to pursue a sales and marketing licensing model with crop protection companies, while continuing to manufacture BOOSTER-Mag in-house.
In response to recent orders, Calix expects to deliver four more containers of AQUA-Cal+ to China before the end of the financial year, in addition to the eight already delivered. This has exceeded the company's expectations for its entry into the Chinese market, led by Hong Kong-based distributor Honlex Jones and mainland sub-distributor Tianjin Ocean.
AQUA-Cal+ is being used in farmed prawn production to improve yields through the control of nitrites, which are harmful to prawns. China is the largest farmed prawn producer in the world, followed by Thailand, Vietnam and Indonesia, so the company is focusing on those markets. In the three financial years since its entry into South-East Asia, starting with small paid trials, AQUA-Cal+ has at least doubled sales every year, and is on track to do the same this financial year.