CARBIDE APPLICATION SERVICE FOR MACHINE TOOL SHOPS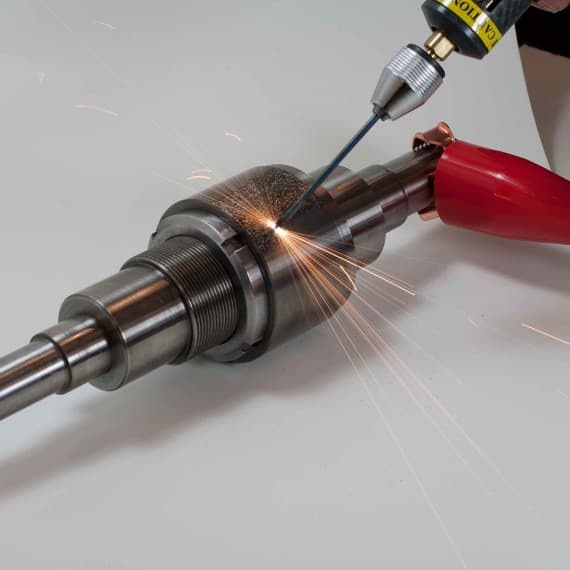 Insufficient grip resulting in slipping parts, pushback in chuck jaws and collets wearing out prematurely are issues well known to CNC turning machine tool operators. The resultant downtime and expense of new or reworked jaws are significant problems.
Well-known workholding solutions provider Dimac Tooling has recently launched a service designed to eliminate such issues, using a new form of carbide application equipment called the Rocklinizer, manufactured by the Sioux City, Iowa-based Rocklin Manufacturing Company, which was incorporated in 1934 and is now an established manufacturer of industrial electronic equipment.
The proven spark deposition process called Rocklinizing quickly and easily boosts the grip coefficient of workholding jaws and collets. The unit electronically applies a hard and wear-resistant surface of tungsten carbide, titanium carbide or Rockhard electrode material to workholding tools, both on top of and under the workpiece surface. Unlike welding or metal spraying, no appreciable heat is generated. This ensures the temper of the workpiece is retained without distortion and the electrode material will not separate or flake off the workpiece. After Rocklinizing, no heat treatment, grinding or other surface treatment is necessary.
The unit accurately applies an even layer of coating quickly and easily – 4cm2 can be applied in less than a minute using the rotary applicator. It is easy to use with a simple-to-operate touch panel and easy-to-view digital readout. The application process improves clamping force by a significant 50 per cent, thereby providing extra grip on workholding equipment such as jaws and collets, while wear is accordingly reduced.
"The end result of this surface treatment is to increase productivity and reduce costs," Dimac Managing Director Paul Fowler says. "When the tools remain in operation without replacement due to wear, there will be less machine downtime, operator idle time, and expense of replacing workholding equipment. For just a few hundred dollars this service pays for itself when you take into account the significant benefits."
Dimac Tooling
03 9771 6121
dimac.com.au