CAR TECHNOLOGY MAGNIFIES SOLAR GENERATION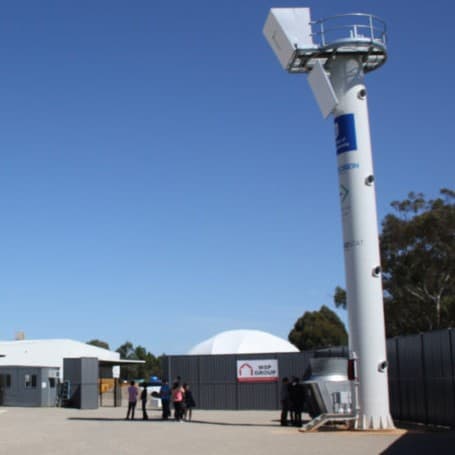 Technology used to develop the world's first fully plastic automotive mirror is being adapted in South Australia to make solar energy generation more efficient.
Adelaide-based car parts manufacturer Precision Components has partnered with the University of South Australia to today launch a heliostat test bed north of Adelaide.
The trial field includes 25 heliostats each measuring 7.2 square metres and a 16-metre-tall concentrated solar photovoltaic (PV) receiver, which can generate about 30 kW of electricity per hour.
Heliostats concentrate sunlight onto a tower, and depending on the type of receiver unit, either heat molten salt to generate steam to power turbines to generate electricity or convert sunlight directly into electricity using a high efficiency solar cell receiver.
The heliostat innovations hope to deliver more reliable and efficient energy production.
It is not the first time the University of South Australia's Future Industries Institute has partnered with industry to commercialise its world-leading thin film coating technology.
The group of researchers partnered with SMR Technologies, a car mirror manufacturer in Adelaide's southern suburbs, to commercialise the world's first fully plastic auto mirror in 2012. About 4 million of the mirrors, which are much lighter and do not shatter in a crash unlike their glass counterparts, have since been sold around the globe.
Lead researcher and Industry Professor at UniSA's Future Industries Institute, Peter Murphy said the design challenges in developing a heliostat surface that could stand up to a range of environmental factors echoed some of the challenges in designing the car mirror.
"Heliostats need to withstand heat, cold, rain, UV light exposure and abrasion by sand, often in harsh, arid environments," Prof Murphy said.
"To be really effective they must have a lifetime of 25 to 30 years and that presents a huge set of challenges at a macro and nano scale.
"Our long term research goal is to develop tough, ultra-high reflectivity mirror coatings on polycarbonate to underpin lighter, more efficient heliostats that stay cleaner for longer."
South Australian Premier Jay Weatherill, who officially opened the solar trial field, said the partnership with the university and the new site helped show the state's leadership in the national transformation to renewable energy technologies.
"Working in partnership with Precision Components, a company previously servicing the automotive industry, the two companies demonstrate successful diversification from a manufacturing skill base into other industry sectors," he said.
This next generation solar power technology will be vital to the development of renewable power sources in Australia and internationally.
The Edinburgh trial field, about 30km north of Adelaide, is the result of three years of research, development and manufacturing of the heliostats following the formation of Heliostat-SA, majority owned by Precision Components, in 2014.
Adelaide-based Precision Components has been a leading Australian component manufacturer for the automotive industry for more than two decades.
The launch comes at an important time for the company, which is transforming its business following the decline of Australia's car manufacturing industry.
Automotive manufacturing officially ends next week with the closure of Holden's Elizabeth plant just a few kilometres from the solar field.
Precision Components has also partnered with Bustech to form Precision Buses. That joint venture last year secured $2 million in South Australian Government funding to manufacture advanced diesel and electric buses on the same site as the heliostat field.
Last year the company and Heliostat-SA, which shares the premises, manufactured 150 heliostats for a solar project in Yokohama, Japan.
"This is another significant step in the diversification strategy we implemented to safeguard the future of the business and to create employment opportunities for South Australians," Precision Components Director Mat Fitch said.
Under the solar trial joint venture, Heliostat-SA designs and manufactures solar energy technologies for both the concentrated solar power and PV tracking industry sectors.
While the heliostats at the trial field are made of traditional glass, the researchers are working on adapting South Australian thin film coating technology to produce lightweight and durable polycarbonate mirrors.
South Australia leads the nation in the uptake of wind energy and rooftop solar with renewable sources accounting for more than 40 per cent of the electricity generated in the state. The State Government aims to extend this to 50 per cent by 2025.