Car industry closure will cost 50,000 jobs, union warns
05-12-2013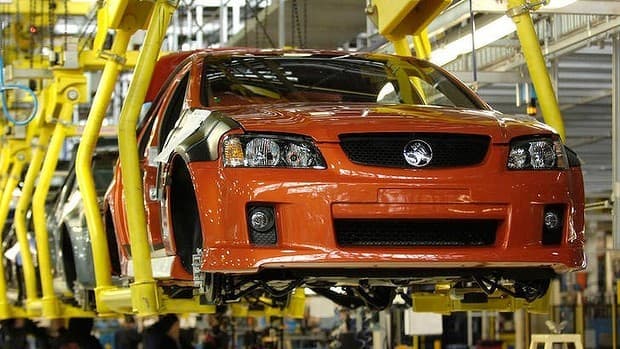 Shutting down of car manufacturing in Australia will cost 50,000 jobs and wipe out $21 billion in economic activity, the Australian Manufacturing Workers' Union has warned.
It its submission to the Productivity Commission, obtained by News Corp Australia, the AMWU says: "We face the stark reality that in the next six months decisions could be taken that would result in the automotive industry closing before 2020."
"Alternatively decisions can be taken that would mean the industry goes through a process of restructuring and consolidation," the AMWU report says.
News.com.au reports the future of Holden's car assembly line in Elizabeth near Adelaide is under a cloud because General Motors has asked for an increase in government assistance to build two new cars from 2016 to
2022.
But the newly elected Federal Government has vowed to cut $500 million in handouts to the industry.
According to News.com.au, Toyota insiders say if Holden shuts its factory, the Japanese giant will close its Altona operations where the Camry is made because the cost of locally-sourced parts will increase without the economies of scale provided by Holden.
Ford announced in May this year it will close its Broadmeadows and Geelong facilities no later than October 2016, a move which appears to have started a domino effect.
The Productivity Commission is due to publish a preliminary review on the industry on December 20 ahead of a final report on March 31 next year.
Critically, however, General Motors says it needs a funding decision before the Christmas holiday shutdown because of the lead times involved in installing equipment for future models.
Some industry insiders believe General Motors has already made a decision to shut the Holden factory.
Earlier this month the international General Motors executive who will make the decision on the future of Holden - Stefan Jacoby - did not make the time to visit the factory or meet with production line workers, union representatives or the Federal Government during a two-day visit to Australia.
The AMWU submission says there is a "common notion that the Australian automotive industry should not be supported because it cannot 'stand on its own two feet'."
However, the union says: "such a notion is extremely naive and neglects the fact that the industry is significantly supported the world over".
It has produced a table which outlines some examples of the level of taxpayer support received by other car companies.
The figures show that Ford received $670 million for an engine factory in the UK in 2010, Volkswagen received $600 million for a car factory in the US in 2008 and BMW received $519 million for a car factory in Germany in 2002.
It also says the US government has provided more than $1.4 billion per annum for "green" car innovations; Germany has allocated $2 billion and the European Union $7 billion.
Not mentioned in the report, however, is the fact that most foreign factories that benefit from those schemes build more cars and components and employ more people than the three Australian car manufacturers combined.
Ford has fewer than 1500 workers, Holden about 1750 and Toyota about 2500. Ten years ago Holden alone employed more than 6000 factory workers.
The AMWU report says between 2001 and 2010 China's automotive components industry "benefited by indirect subsidies to the value of USD$27.5 billion".
The AMWU also attacked Free Trade Agreements which have crippled the car industry.
One in five of all new vehicles sold so far this year comes from Thailand, second only to Japan.
Australian-made cars now account for less than one in 10 of all new vehicle deliveries and local production is at its lowest level since 1957.