CAPS staff breathe deep for asthma charity
31-07-2013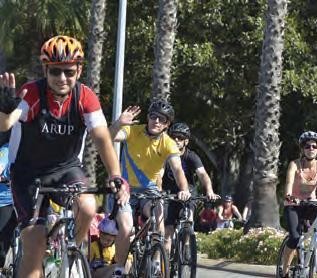 Five staff members from the Perth headquarters of Compressed Air and Power Solutions (CAPS) Australia completed the RAC Freeway Bike Hike for Asthma, contributing to the more than $190,000 raised by the event for asthma support and research.
The Freeway Bike Hike is Western Australia's largest cycling community event and charity fundraiser.
Ben Hart, Paolo Lazzari, Melgrace Laudit, Jan Van der Laan and Thomas Godwin took the train from Perth to the starting line in Mandurah.
"It was a beautiful morning for the ride," Hart said. "Despite being packed in very closely with a few hundred other cyclists, it was a lovely train ride down the coast."
Hart, Lazzari, Laudit, Van der Laan and Godwin were part of the more than 10,000 people who saddled up on their bikes to take over the freeways from Mandurah to Perth for the 65km charity fundraiser.
"It was a great day for a ride and overall the event was an enormous success with the highest number of participants ever recorded," said Hart.
Senior management of CAPS is proud of the achievement of the five riders and the efforts company staff made to support them and the charity event.
Organisers of the event said the amount raised was more than double that of 2012 and the number of cyclists was 25 percent higher than the previous year.
Participants had the option of taking part in three different length rides which started at various points south of Perth. These were the Full Hike from Mandurah, the Mid Hike from Kwinana or Currambine and the Mini Hike from Bull Creek or Stirling.
All riders rolled over the finish line at Langley Park on the banks of the Swan River in the city. In the park participants enjoyed the festival atmosphere and were able to rehydrate and relax after their ride with live entertainment, breakfast and entertainment for children.