CAPS gets exposure for a great cause
31-08-2010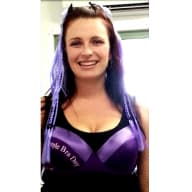 Most women would not choose to walk around in public with their bras exposed, but the team at Compressed Air and Power Solutions Australia (CAPS) are an exception.
They recently took the challenge and wore a Purple Bra over their clothes with pride to help raise much-needed funds to support West Australians affected by breast cancer.
On average, 40 women are diagnosed with breast cancer every day in Australia.
To raise funds and awareness of the disease, Breast Cancer Care WA called on cancer survivors and supporters to become superheroes for Purple Bra Day.
More than 4,000 champions took the challenge, including CAPS' Perth Service Coordinator, Nat Saunders, who raised an exceptional $920.
All proceeds will help provide support to the women, their family members and the carers of those trying to overcome breast cancer.
The current fundraising total from the day stands at more than $390,000, with Breast Cancer Care WA overwhelmed by the effort and generosity from the whole WA community.
CAPS Australia, the country's largest independent, compressed air company, hopes to continue supporting the charity throughout the year.
Donations to Breast Cancer Care WA can be made via the organisation's web site: http://www.breastcancer.org.au/donate-online/default.aspx