Can you pass the alcohol test?
09-08-2013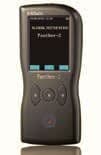 Alcohol and other drug-related problems can occur at any time in the workplace.
Alcohol abuse by workers can damage physical and mental health. And not only can it result in serious injury or even death, it comes at a high price.
The abuse of alcohol and drug abuse costs the Australian economy an estimated $2 billion a year in absenteeism, lost production, workers' compensation and rehabilitation services.
Many Australian workplaces now use pre-employment, random, post-accident and reasonable suspicion drug and alcohol testing policies to safeguard their organisations, and to ensure the safety of their workers.
This is particularly the case in high risk workplaces where employees may be required to drive vehicles or operate machinery.
Australian Dynamic Technologies, an Australian owned family company, has made a name for itself as a leader in alcohol and gas analysis testing technology.
In 1984, the company designed and built the first Public Alcohol Breathalyser for hospitality and industry. Many are still operating today.
ADT specialise in the sale of personal breathalysers for the public as well as Industrial Hand Held and Wall Mount alcohol breathalysers.
Personal breathalysers are a great tool for the public to monitor their blood alcohol concentration, checking for rising or falling blood alcohol content (BAC) and importantly to test themselves before driving or starting work.
The Panther2 breathalyser, the latest addition to the ADT product range, uses the latest breath alcohol analysis technology providing the user extreme accuracy.
It features touch screen interface for data entry and menu navigation.
Australian Dynamic Technologies Co Pty Ltd
Ph: 02 4577 9347