Can you lift 50kg with just one hand?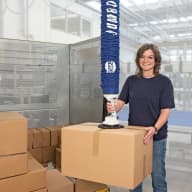 Vacuum specialist Schmalz is rounding out its series of tube lifters that feature one-hand operation for frequent, fast movement of light goods.
The new JumboFlex 50 offers a maximum load of 50kg.
Following on the proven JumboFlex 35, Schmalz now offers the right handling solution for every small load up to 50kg.
The innovative addition to the JumboFlex 50 is the new operator handle. Schmalz' engineers developed it in cooperation with the Ergonomics faculty at the Technical University of Munich, and adapted it to the heavier load.
The redesigned button can be controlled with either one or two fingers. The larger soft touch inserts on the control handle aid precise and safe handling of loads of up to 50kg with one hand. Proven features of the JumboFlex 35 tube lifter, such as the intuitive operation for right or left-handed users and the precise control of lifting speed, have been retained.
Different suction pads are available for various applications. These suction pads can be replaced easily, quickly and without the use of tools thanks to the standard integrated quick-change adapter – an important advantage in a market segment in which the size and shape of goods are frequently changing as part of everyday business.
The round suction pad is used for handling barrels and buckets. Double and quadruple suction pads are used for handling cartons, wooden panels, metal sheets and other large work pieces. The sack gripper can move plastic and paper sacks safely and reliably. Almost anything weighing up to 50kg can be lifted and transported ergonomically with the JumboFlex 50. In addition, work pieces can be picked up from the sides, which further expands the range of applications. The suction pads, which can be swiveled by 90,° then automatically bring the load into the horizontal position after handling.
The JumboFlex 50 tube lifter is also available in a special A2 (Food Grade) version for use in the food and beverage industry.
An electrical pump with a suction rate of 67 m3/h (50 Hz) is responsible for vacuum generation. With the optional radio remote control SRC, the operator can switch the vacuum generator on and off directly on the operator handle. This reduces energy consumption by up to 40 percent. The maximum lift speed is 1m/second.
The continuously rotatable lifting unit, which is attached to the crane system, ensures optimal handling and a high level of flexibility in daily use.
Together with Schmalz' responsive aluminum cranes, the JumboFlex 50 is the perfect handling solution for quick goods handling that combines energy efficiency, ergonomic conditions and simple operation.
The Schmalz range of products are handled in Australia and New Zealand by Millsom Materials Handling.