CAN ARTIFICIAL DIGESTION REPURPOSE FOOD WASTE?
11-04-2016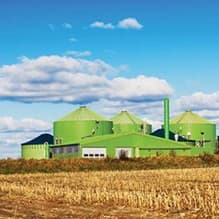 Australian consumers waste almost a full fifth of all the food they purchase, which isn't only a dent in the household budget: it impacts the environment as well.
Rotting food releases methane gas: 25 times more potent than Co2 and one of the biggest contributors to climate change and environmental disruption.
While Australia has many programs to encourage the use of 'ugly' fruit and vegetables, and reduce food waste, part of America has adopted a different strategy: artificial digestion.
More benignly known as biogas production, the Heartland Biogas Project is using the wasted food from areas in Colorado, and repurpousing it for electricity generation.
The anerobic digestion begins in a series of massive tanks that are filled with food waste, which is turned into a 'water-based sludge'. From there, the solid components are extracted for use in composting, and the methane gas for use in power generation.
This has the dual effect of producing power and reducing the environmental impact of the food waste that would have otherwise rotted in landfill.
Anaerobic digestion may not be a final solution to food waste, but until major changes are made to the supply chain of edibles, they will continue to be a viable bandaid fix.