| Article appears in April 2019 Issue
CAMPUS COMBINES MACHINERY SHOWCASE WITH TRAINING BASE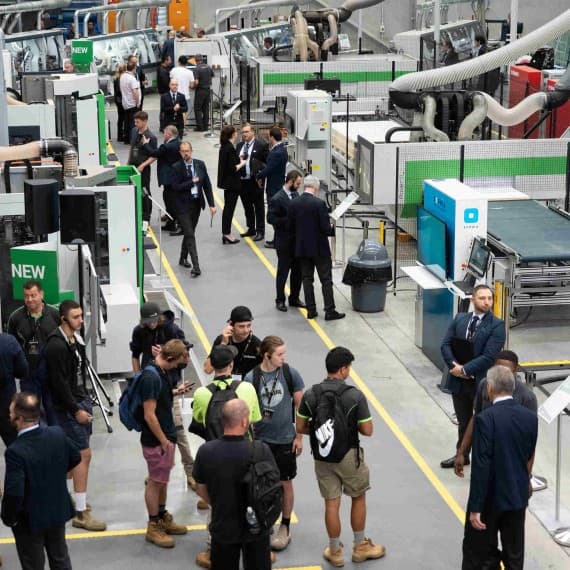 Italian machinery manufacturer Biesse Group has opened an all-new facility in Western Sydney to showcase its offerings for the woodworking and special materials markets. The opening came as part of the group's 50th anniversary celebrations.
The Biesse Group Sydney Campus is at Wetherill Park, and covers some 5000m2, of which 2000m2 is a showroom, kitted out with no fewer than 25 of the company's machines. And the facility is the company's third largest in the world.
Speaking at the official opening, Biesse Group Subsidiaries Director Federico Broccoli made the point: "We call them campuses for a reason – because you can learn."
This point was not lost on Shayne Fagan, TAFE Head of Skills for Innovative Manufacturing, Robotics and Science, who was present at the opening, and who was delighted that the facility would "give TAFE NSW access to state of the art technology".
For Biesse, though, the opening comes as a result of a Eur 7 million investment (AU $10 million) that has seen the local headcount increase to more than 100, of which more than half are engaged in service roles.
Says Broccoli, "Servicing customers is a lot more important in Australia and New Zealand."
This point was echoed by Biesse Oceania CEO Michael Bullock, who added: "Our users can't keep waiting for Italy – they need true local support. And now we can take out technicians to a higher level."
He added: "We want to be able to offer full training courses."
Federico Broccoli highlighted another purpose for the campus. "It's like a little R&D department," he said, "where we can listen to our customers and find out what they want." And that is no idle boast: Biesse Group is currently investing 4% of its turnover in R&D – and that turnover currently stands at Eur 700 million (or AU $1 billion).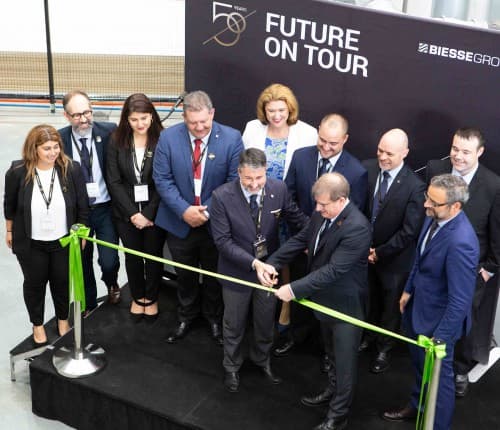 Federico Broccoli and Michael Bullock cut the ribbon during the official ceremony
Alongside the showroom, the campus hosts a significant parts operation to support local users. This comprises stocks of some 18,000 different parts (a total stock of some 5 million items), all available for same-day dispatch to ensure local users can keep their machines running.
Biesse Group
1300 243773
www.biesse.com