Campaign to place 50 apprentices in 50 days
09-12-2013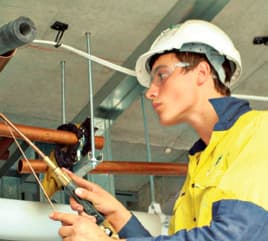 To prevent future skills shortages, MIGAS has launched a campaign aiming to place 50 apprentices in 50 days.
From October 18 to December 6, the 50in50 campaign will help place work seekers in the hopes of creating a sustainable industry workforce.
MIGAS CEO, David Brown said he is trying to place as many trainees and apprentices in 2013 as possible due to industry concerns businesses are not spending money on training.
"The 50in50 campaign has been developed to ensure the future workforce is strong enough when current tradespeople retire," said Mr Brown.
Mr Brown said if apprentices were willing to relocate, it would heighten their chances of being able to secure a job.
"We have jobs all over the country and relocating will make for better job prospects."
The campaign has had a roaring start. One apprentice has already landed an apprenticeship through MIGAS as a Fitter with Geared Engineering at Beresfield, Hunter Valley.
Jakob Hayes, 21, said: "After applying online MIGAS called me back within a week to completed an aptitude test and interview before I started the pre apprenticeship course."
Steve Spicer, business owner of Geared Engineering, currently hosts three apprentices through MIGAS and is looking on taking on a fourth.
"We've got apprentices in their first, third and fourth year of their apprenticeships and we're looking at getting a guy in his second year through MIGAS too," he said.
"There's a national shortage of tradespeople when we are busy we struggle to find trained guys," he said.
And student Shane Ryan,18, secured a school-based apprenticeship as a Boilermaker at Matthews Brothers Engineering in Newport, QLD.
"I want to make sure I have a good future and there's the promise of a wage at the end of the week," Shane said.
Matthews Brother's Engineering Accounts Manager, Penny Matthews, emphasised the importance of creating jobs and opportunities within Australia to ensure work isn't lost to offshore production.
"Give young blokes and ladies a go, how else are we supposed to expect jobs to stay within Australia?" said Mrs Matthews.
"I'm not sure if young kids of today recognize the benefits of a completed apprenticeship," she said.
Mr Brown said jobs confidence for apprentices is starting to improve.
"Now we have a new government there seems to be a bit more business confidence."
Mr Brown also expressed industry concerns the FairWork Commission's new apprenticeship wage restructure will limit the number of apprentices workplaces take on.
From January 1, next year, apprenticeship wages will rise by 8-13 percent.
MIGAS places apprentices in a variety of industries including engineering, manufacturing, electrical/refrigeration, automotive, mining and gas.
Celebrating its 25th anniversary earlier this year, MIGAS is Australia's leading apprentice and trainee management company.
MIGAS
Ph: 07 4951 0760