CAMFIL RELEASES NEW CORE PRODUCT BROCHURE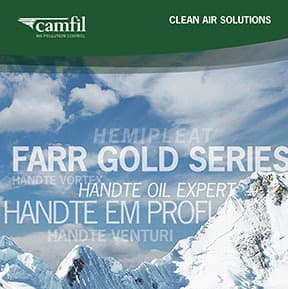 Camfil Air Pollution Control (APC) has published a core products brochure that showcases the company's dust, mist and fume collection equipment for a full range of manufacturing industries.
The 16-page "Clean Air Solutions" brochure includes an overview of the company's flagship lines of Farr Gold Series® dust collectors and HemiPleat® filters, including features, benefits and applications. 
Also featured are the Handte EM Profi coolant (emulsion) mist collector and Handte Oil Expert oil mist collector for cleanup of mists generated in machining centers, and the Handte Vortex and Handte Venturi wet scrubbers for wet collection of highly flammable and combustible dusts.
The brochure also highlights the company's green/sustainability initiatives and corporate mission statement.
Camfil APC is a leading global manufacturer of dust, mist and fume collection equipment and is part of Camfil, the world's largest air filtration company. To download a copy of the brochure, visit www.camfilapc.com/products.