CALIBRATION SYSTEM ENHANCES BOLTING SAFETY AND PRECISION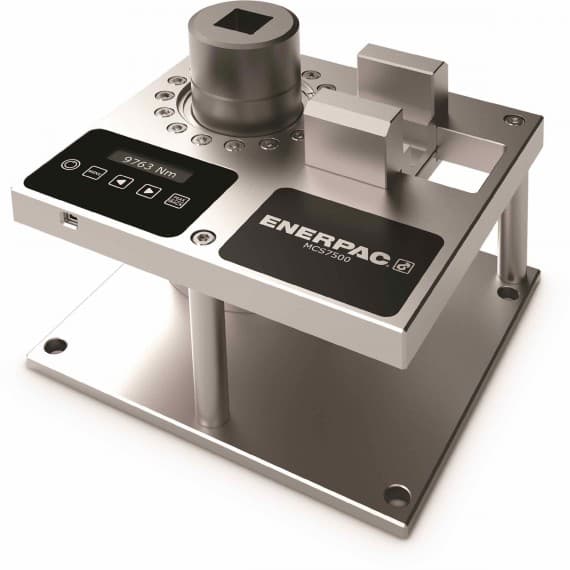 Enerpac is introducing a new compact and portable mobile calibration system to enhance the precision, safety and standards compliance of electric and pneumatic controlled force bolting tools used in diverse industries and locations throughout Australia, New Zealand and Papua New Guinea.
The MCS series accurately calibrates torque wrench outputs from 200 to 10,000Nm and stores test results and certificates for printing, reference and traceability. The system weighs less than 35kg, or less than 40kg with an optional case, and is powered by an internal Li-ion battery pack and external power source via 5V DC USB power supply.
Its heavy-duty adjustable reaction block facilitates use with Enerpac pneumatic and electric continuous rotation tools, as well as with a wide range of different brands, says Enerpac Regional Bolting Leader Andrew Marsh.
"The MCS is designed for situations where precision, versatility and performance matter, including multiple bolt applications where even, measurable and traceable consistency is required for structural integrity and safety," he says.
Its integrated digital interface enables results to be displayed, printed, saved or transferred to any computer equipped with Microsoft Windows, where the integrated software allows multiple runs to be recorded, displayed or printed. The software also facilitates the creation of calibration tests results using pre-set or operator-designated calibration parameters. When the job is finished, the test results or certificates can be printed or stored electronically for future reference.
The new MCS features the rugged design and comprehensive national backup for which Enerpac is widely respected, and is part of Enerpac's extensive range of professional bolting technology from the one convenient source, all with global standards of reliability, safety compliance and traceability, says Marsh.
Enerpac
02 8717 7200
www.enerpac.com