CABLE-PULL EMERGENCY STOP FEATURES SOLID-STATE DESIGN
15-05-2017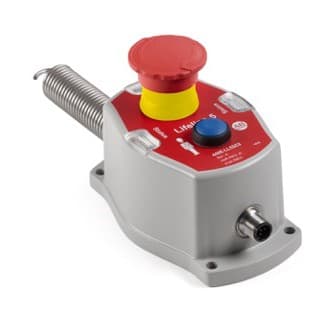 New from Rockwell Automation, the Allen-Bradley Guardmaster Lifeline 5 is the industry's first solid-state cable-pull E-stop. The novel microprocessor-based design incorporates an electronic rope-monitoring system that compensates for thermal expansion and cable sag, and so removes the chance of nuisance trips and unreliable operation. 


The Lifeline 5 switch provides constant access to the E-stop function, stopping a machine hazard with a simple pull of the attached cable. Setup, maintenance and troubleshooting are simplified by the solid-state design. Easy to read LED indicators assist in cable tensioning for quick, precise setup while providing switch status and diagnostics during operation.


The switch is available with either a die-cast aluminium or rugged stainless-steel housing, providing ingress protection to IP66 and IP67, respectively. The die-cast aluminium model can also be specified with an integrated E-stop button for greater flexibility. 


Rockwell Automation
1800 762 593
www.rockwellautomation.com.au