CABLE GLAND RANGE WITHSTANDS DEMANDING CLEANING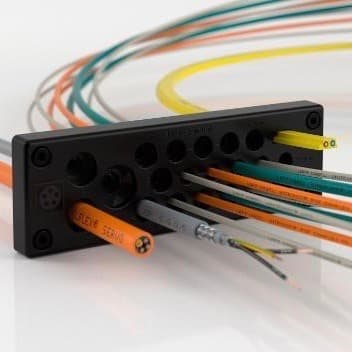 Lapp Australia will showcase the globally proven Skintop cable gland system at AUSPACK 2019 (stand G130) from March 26th to 29th, promoting it as a range that cuts cable system assembly times while offering optimised protection indoors or outdoors and in hot or cold conditions.
The patented system is widely used in a wide variety of industrial uses requiring high performance sealing, gripping and clamping with outstanding protection from dirt, oil, water and vibration.
This high performance protection, compliant with leading international standards, is engineered to ensure reliability and productivity even in aggressive or exposed applications, ranging from demanding cleaning regimes to offshore uses and solar energy.
The range ensures a tailored solution to every wiring challenge with its own special features, says Lapp Australia General Manager Simon Pullinger. Different versions are tailored to the needs of different industries, and respond to the needs of large-diameter cables, multi-cabling, UV resistance, temperatures as low as -70°C and safety in hazardous areas.
"Skintop cable glands ensure a secure connection in a matter of seconds, typically cutting 20 per cent or more out of assembly times," says Pullinger. "These universal systems are simple, easy to install, securely fixed, centred and hermetically sealed. In Australia we stock a wide range of models to suit all types of applications, including ATEX, EMC and ECOLAB approved environments."
The Skintop range will feature in the first appearance at AUSPACK of the new, fully-fledged Lapp subsidiary in Australia, which opened February 2018. The stand will provide key markets with a personal introduction and unique overview of Lapp's globally respected product ranges, available in Australia for more than 30 years and produced at 18 manufacturing locations on four continents. Lapp's innovative global brands include data, ethernet and fibre-optic cables, cable glands and connectors, and cable protection and marking systems.
Lapp Australia's new 3100m2 headquarters at Eastern Creek, Sydney is purpose-built to meet national demand for advanced technologies backed by outstanding technical service and swift delivery in future-focused areas of industry. Its initial range of more than 1000 stocked items has grown to exceed 1500 in its first year, and will grow beyond 2000 in the coming year.
The new headquarters also houses customising machinery that enables the supply of a variety of different cables types up to 37mm supplied ready-cut and finished to precise lengths. This customer-responsiveness, combined with the speed and flexibility of the Lapp logistics centre in Germany, means Australian customers have access to 40,000 Lapp products with lead times of 1-2 weeks from receipt of order.
Lapp Australia
1800 931 559
www.lappaustralia.com.au