BYPRODUCT SPONGES SOAK UP OIL SPILLS
08-05-2018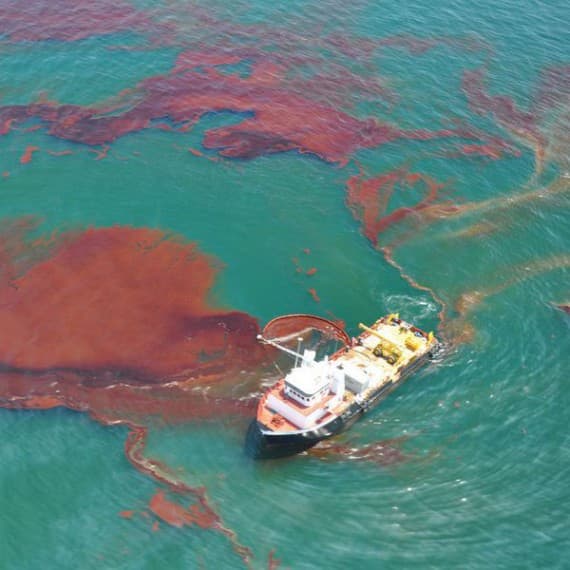 Flinders University has aided in the development of a reusable sponge-like polymer to efficiently soak up oil spills in the world's oceans.
The absorbent rubber polymer is made of waste cooking oil from fast food outlets and sulphur; a by-product of the petroleum industry.
The international research team is headed up in South Australia by Flinders University's Dr Justin Chalker.
The product is highly hydrophobic, allowing it to separate from water and bind well to oil. The polymer absorbs oil much like a sponge, forming a gel that can be scooped out of the water.
It is capable of absorbing 2-3 times its mass in oil or diesel and is reusable. The recovered oil can be squeezed from the polymer like water from a sponge and can also be reused.
"This is a new class of oil sorbent that is low-cost, scalable, and enables the efficient removal and recovery of oil from water," said Dr Chalker, Senior Lecturer in Synthetic Chemistry at Flinders University. 
"This application can consume excess waste sulphur that is stockpiled around the globe and may help mitigate the perennial problem of oil spills in aquatic environments," said Chalker. 
The team originally developed the polymer to capture mercury pollution from soil, water and air at mine sites and industrial plants.
It is currently being used in a programme in Colombia to remove mercury from rivers contaminated by gold mining.
The researchers are hoping to scale up production of the polymer in South Australia and are looking for funding and engineering support to advance the project.
He said the waste canola oil from food outlets and sulphur were cheap and widely available.
"Just making a product from waste, regardless of what the end use, is a viable thing to think about. In this case, we're converting waste into something that can help clean up the environment," Dr Chalker said.