BUSINESS TRANSFORMATION IN AUSTRALIA: WHERE ARE WE HEADING?
17-06-2016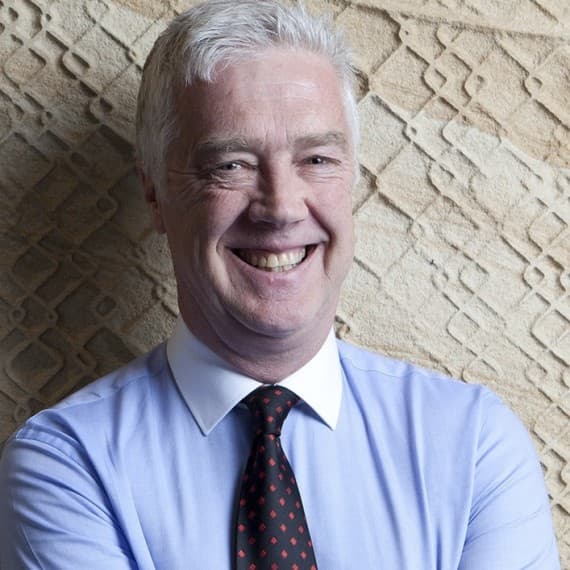 Long-time eminent commentator and visionary Phil Ruthven, Founder of IBISWorld says  Australian businesses are in constant change due to the changing importance of the industries in which they operate and the emergence of new utilities, systems and technologies over time.
The exhibit below shows the dramatic changes in the importance of our industries over the past few centuries and on to the middle of our current Century: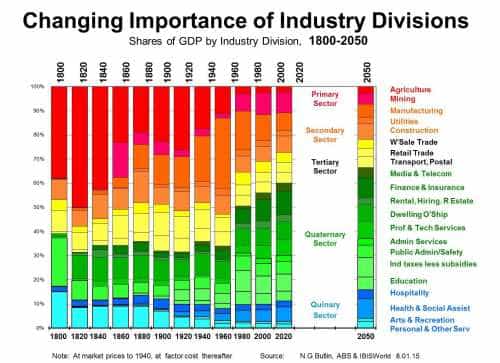 Ruthven believes that Australia, like most of the OECD Group of nations, left the Industrial Age behind over 50 years ago in the mid-1960s. 
"Manufacturing these days is less than 8% of our GDP compared with almost 30% in 1964; and yet our standard of living has almost trebled over that period," he says.
These days, IT and – more recently – the digital disruption era of fast broadband, AI software and analytics is as impactual as electricity was to the Industrial Age," Ruthven concluded.
In the value-adding forest products sector, where  domestic manufacturing output is dependent on small, medium and large players in the construction sector, drivers for transforming businesses are a mixture of  investments in product innovation and leading-edge manufacturing technology as well as a tenacious focus on production efficiency and cost-management.
Jim Snelson, CEO at Australian privately-owned Borg Manufacturing, says the future of manufacturing in this sector is wholly dependent on positioning itself as part of globally competitive market in general and a highly competitive Asia/Pacific market in particular.
According to Snelson the future agenda is clear. 
"Competition in the Asia Pacific forest products sector will only increase," he says.
"Businesses in this sector need to aggressively invest to stay on top of the product innovation curve and at the bottom of the cost curve."
The new world digital space is gathering exciting momentum.
It affects just about everything we do to create value and connect with customers.
Head of Marketing, Iggy Pintado from SAS says: "The deployment of predictive analytics is rapidly becoming a key driver of innovation. Where it has long delivered incremental value at the operational level, enlightened C-Level executives now recognise that analytics has a critical role to play in uncovering insights for decision- making at board level.
Indeed, as data proliferates thanks to digital disruption – think: the encouragement of customer-driven social media transactions by big business; ever more numerous engagement channels; cloud computing; mobility and more … trying to derive meaning from the information-inundation without analytics is uselessly slow at best, and impossible at worst.
Fortunately for our national competitiveness and future prosperity, we see Australian organisations in both the public and private sectors embracing analytics with gusto. And the technology to do so is here and proven. At SAS, we work with companies that are handling five billion transactions a month, yet can visualise from all that data in mere seconds."
Will these transformational phenomena continue?
Prime Minister Malcolm Turnbull is centre-stage in the political spectrum as the advocate for innovation in his recent statement: " Welcome to the Ideas Boom".
Is business transformation the logical outcome of innovation?
The Australian Government's National Innovation & Science Agenda website (http://www.innovation.gov.au) publishes its agenda on its front page.
"Extraordinary technological change is transforming how we live, work, communicate and pursue good ideas. We need to embrace new ideas in innovation and science, and harness new sources of growth to deliver the next age of economic prosperity in Australia. The National Innovation and Science Agenda is an important step in the right direction."
So is it just technology that is the key driver? Or, must a mindset change of attitude by Australian leadership around transformation opportunities and business-model disruption come before or with it?
Measuring key operating criteria provides some platforms for assessing the health and performance of an organisation.
But is it the qualitative measures around intangibles like competitive capability and customer  needs and perceptions that are just as important? Are these the lead indicators of future survival?
Does transforming  (from under-performance to best-of-breed) need a cultural shift towards customer-centric approaches to markets?
Ron Ashkenas from Schaffer Consulting in the US said in January last year in the Harvard Business Review that the overall goal of transformation is not just to execute a defined change – but to reinvent the organization and discover a new or revised business model based on a vision for the future.
I reckon he's spot on.
Pete Jeans is Chief Operating officer at SMO Sydney, strategic project growth leaders.
http://www.smosydney.com.au