BUSINESS CONFIDENCE HIGH AT MELBOURNE EXHIBITIONS
25-05-2017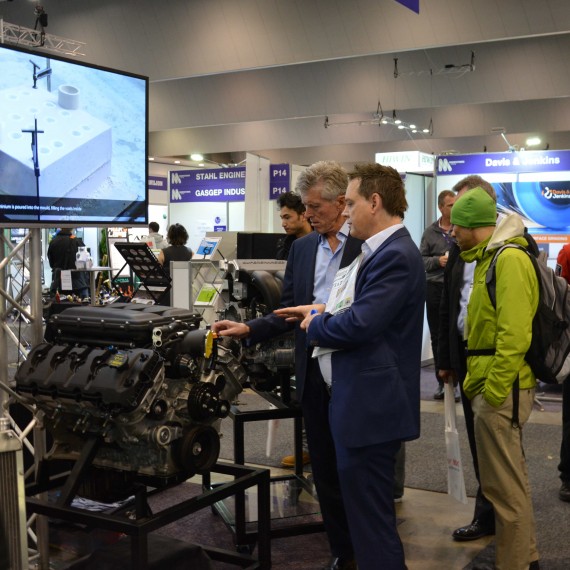 Organisers, exhibitors and visitors alike have hailed this month's collocated shows in Melbourne as a resounding success. The coming together of National Manufacturing Week, Austech, Safety First and the ISSSA Cleaning & Hygiene Expo produced a total visit count in excess of 11,500, and reports of high volumes of both enquiries and business for exhibitors.
"We are thrilled with the 2017 results, which have certainly been one of the biggest years on record for National Manufacturing Week in Australia," said NMW Exhibition Director Robby Clark after the show had closed its doors.
"It is encouraging to hear many of our visitors, exhibitors and speakers view National Manufacturing Week as an event to mark in the calendar, with some already signed on for 2018 and beyond."
And those sentiments were echoed by Shane Infanti, Chief Executive Officer of Amtil, whose Austech exhibition was rightly dubbed "The Big Show" – thanks to the impressive array of capital equipment its exhibitors managed to transport to the Melbourne Exhibition Centre.
"Our exhibitors tell us they were impressed with both the quantity and quality of the visitors to the event. And what's more they tell us that the level of business confidence among the visitors was considerably higher than in recent years," said Infanti.
In all, more than 230 exhibiting companies showcased the latest technologies, developments and programmes over the four days, with live demonstrations very much the flavour of all four days.
One interested visitor was Industry Update Video host Tim Webster, who toured the exhibition halls on day three. Video highlights are available on the Industry Update website.
Education was also to the fore, with eleven student teams from four Victorian secondary schools taking part in a competitive robotics competition on the NMW exhibition floor as part of the Design & Technology Teachers Association Victoria pre-season robotics tournament. This proved popular with show visitors, and even led to offers of sponsorship for the teams.
Austech and National Manufacturing Week ran from 9th to 12th May 2017 at the Melbourne Convention & Exhibition Centre, with the ISSA Cleaning & Hygiene Expo on 9th and 10th May.
Austech
National Manufacturing Week
ISSA Cleaning & Hygiene Expo