| Article appears in June 2021 Issue
A bumper edition to complement economic upswing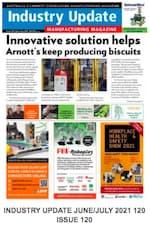 Welcome to our bumper 72-page June/July edition of Industry Update, coming to you on the back of a resurgence in economic activity in Australia, manufacturing included. For example, the Ai Group's Performance of Manufacturing Index for May recorded an eighth consecutive month of recovery, the highest monthly result since March 2018 and the fourth highest since the peak body commenced its index in 1992 (read more on page 58).
The increase in advertising and our growing list of upcoming events, see page 70, also bear testament to rising business confidence. Of course, we are not yet through the woods as far as the pandemic is concerned but staying positive is half the battle. We hope that you will come away feeling buoyed after paging though the many positive stories in our June/July magazine. 
We also hope you'll notice a strong focus on the people behind many of our success stories. For example, the coffee roasting business that grew from the shared vision of two young entrepreneurs operating from a Gladesville garage 22 years ago (page 10); the packaging equipment company started 14 years ago by an entrepreneur with three generations of packaging machinery in his blood (page 12); the Australian family-owned and operated boutique producer of hand-crafted dips (page 22); an industrial designer who believes in sharing information with everyone, even competitors, for the common good (page 29); and a CEO who has worked in her business for 30 years, supplying safety devices to the crane and manufacturing industry. She is now preparing to hand over the reins to the next generation (page 30).