BULK HANDLING NOW A SNACK FOR BISCUIT MANUFACTURER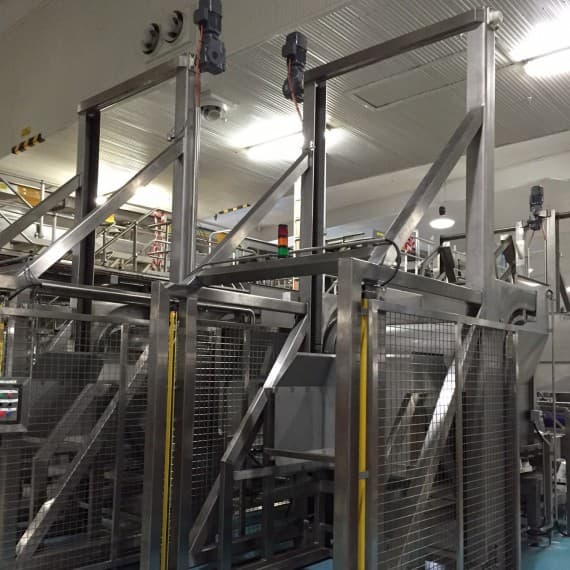 When an iconic Australian food company needed a new method of reliable, continuous supply of snack biscuits to its high-speed weighers and feeders for packaging, it sought the assistance of two Australian manufacturing companies – both leaders in their fields.
Victoria-based Kiel Industries collaborated with Pro Ali Design in Sydney on the project to design and build a new production line for the snack biscuit manufacturer.
A project that illustrates the expertise and skill of the two companies.
From a modest beginning as a small, family-owned and operated company, Kiel Industries has grown into a prominent leader in the rotational moulding industry. Founded in 1989 by the Kiel family, the company now supplies the largest range of plastic pallets in the southern hemisphere and continues to dominate materials handling with innovative designs for pallets, bins, and ancillary products.
Kiel utilises some of the most technically advanced moulding equipment in the world and over time, its custom moulding division has grown to be a prominent participant in the industry.
Their equipment was specifically selected so that the company can offer economical short production runs, together with competitive pricing on high volume production.
Pro Ali Design's dedication to quality, design and service, coupled with a commitment to continuous improvement and technological innovation, has made the company one of the most reputable and respected providers of conveying solutions for many of Australasia's leading food manufacturers.
A major requirement of the biscuit packaging line was to replace the existing bins and handling system with a line that used a cleaner, more versatile bin.
Colin Kiel, Managing Director of Kiel Industries, said: "For the production line, 'cleaner' meant that the bins had to empty completely with no residual biscuits being trapped by corners or edges."
The biscuit production process involves several basic steps. Pastry is made and spread before the topping is added and then cut to shape and baked.
Once through the ovens, the snack biscuits are placed into the Kiel designed plastic storage and transport bins in large plastic bags. When the biscuits are ready for packing, the bins are moved and the biscuits decanted to portion pack sizes of 25g and 70g. Portion packs are retained in the Kiel bins until bin emptying is required to create multipacks on the packaging line.
The portion packs are then boxed, ready to be sent out to supermarkets across the country.
The customer requirements were for 650 litre, food-grade polyethylene bins that were standard pallet-sized with smooth walls and easy to clean.
The bins also needed the capability to be safely stacked up to eight high.
The biscuit manufacturer ensures the freshness of its product by insisting on a 14-day turnaround between baking and packaging.
During this two-week period, approximately 1000 bins of snack biscuits are produced. To meet this demand and ensure there were always sufficient bins, Kiel Industries manufactured 1500 bins in total.
Kiel Industries tendered for the project but were only given four months to produce the minimum number of 800 bins. "This was a little tight because during our normal operational shifts, one mould can only produce 100 bins per month," Kiel stated. "We had to maximise the efficiency and utilisation of the production line to make best use of the machines."
Once the design of the bin had been confirmed, prototypes were sent to Pro Ali Design in Sydney for development of the automated tipping machinery that was to be part of the new production line. "It was interesting for a change for us to develop a bin and have the handling equipment built for it," said Kiel. "Usually, a company designs and builds a processing plant and then asks us to give them a bin that fits their system."
Pro Ali was selected because it specialises in the design and construction of state-of-the-art stainless steel conveying systems for the food industry, including customised package and box handling conveyor lines. In addition, all the company's equipment is manufactured to meet the appropriate Australian Standards, as well as AQIS, MAF or FDA 'clean design' specifications.
According to Jon Ball, Pro Ali's Business Development Manager, his company received a very specific brief from the biscuit manufacturer for the development of its new production line. The main requirement was to improve efficiencies and remove the need to manually load biscuits from different shaped bins.
The cubic-metre bins developed by Kiel Industries had to be robust to withstand being picked up and moved around in areas where there were multiple forklifts operating, so the Pro Ali design incorporated a heavy duty bin tipper.
"We were working with very fragile product in both the contents and the packaging," said Ball. "The consumer packs are highly decorated so cannot be scuffed during transport along the line."
The packaging line includes elevated and radius conveyors, so Ball had to ensure that there were minimal junctions, bends, lips and edges in the line on which packets of biscuits could be caught.
The feeder hoppers all include a laser level, which sends an alert when the biscuit level is low and requests another bin be decanted into the packaging line. The line has four units operating on a continual basis to ensure that it is conveying a regular, constant stream of product.
The processing line design incorporates a number of safety features to protect workers, including light curtain safety lock-outs.
"Safety was paramount and our design had to reflect this," Ball added. "When the beam of one of the light curtains is broken, the system shuts down and must be manually reset in order to start the process again."
One feature of the project was that the new production line was to be built on a blank floor area dedicated to the bin tippers and conveyor system; not around or over existing machinery as is often the case. "This allowed us to have a lot of straight runs to ensure nothing gets stranded high up on an elevated section," Ball said.
"In the past, it was possible to get the contents of different packs mixed because some got caught at a junction and dislodged on a later run."
While the area for the new line was a clear, open expanse, gaining access to it was not a simple matter. "We had to remove a wall and then unbolt, raise and reconnect a number of conveyors," added Ball.
Pro Ali were given approximately six weeks to design and build the bin handler and conveyor system. According to Ball there was more time spent during the design phase because the snack biscuit manufacturer requested numerous reviews before signing off on the system.
A mock-up of the production line handling system was assembled at Pro Ali's manufacturing base in suburban Sydney after prototypes of the Kiel bins were delivered. Factory acceptance tests were conducted to demonstrate the whole operation to the customer. After a few tweaks of the design, Pro Ali built and delivered the three other handling units.
"While this project was challenging, we haven't been thrown a task yet that we weren't able to deal with," said Ball.
Kiel Industries membership of the Association of Rotational Moulders Australasia and ISO9001:2008 certification is testimony to the company's ongoing commitment towards producing quality products and customer service.
The company has developed its own style of affordable tooling. Combining this with a design service and in house mould making facilities, it is able to offer customers competitive pricing to ensure their products get to market.