Budget delivers new $30m manufacturing innovation centre
31-08-2010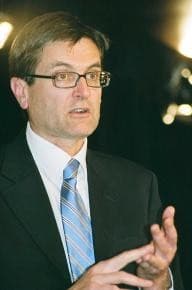 Greg Combet … new opportunities
A $29.8 million Manufacturing Technology Innovation Centre will be established to give Australia's flagging manufacturing sector a much-needed boost.
The new centre will bring together researchers and manufacturers to work on innovative new projects.
Announcing details of the MTIC, the Minister for Industry and Innovation Greg Combet said the centre would aim to create, foster and leverage industrial design, engineering and product development using leading-edge technologies, business processes and technical know-how.
The MTIC will use existing Enterprise Connect infrastructure to provide grants for projects, and will call on expert bodies to provide tailored advice to individual firms.
The Federal Budget has allocated a total of $3.9 million next financial year, followed by $6.5 million in 2013-14, $9.4 million in 2014-15 and $10 million in 2015-16.
"This investment will boost innovation in the manufacturing sector for the future," Mr Combet said.
"This initiative will build on the government's existing business capability programs, and help businesses realise new market opportunities, particularly in the Asian market."
The new centre will encourage collaboration between major manufacturers, SMEs, public research agencies and universities.
Support from Austrade, the Industrial Transformation Research Program, and the Australian Manufacturing Technology Institute Limited will also be provided.
Mr Combet said the MTIC would provide examples of best practice to the rest of industry, and will work to "champion the diffusion of innovation across sectors".
The initiative builds on the government's $34 million manufacturing package announced at last year's budget.
The $34.4 million "Buy Australian at Home and Abroad" initiative is aimed at helping manufacturers that have been hit by economic uncertainty and the high Australian dollar.