BRUSH UP ON MINING SAFETY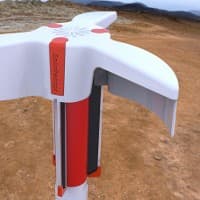 The Spinflector in action, battling the harsh elements.
Using this ingeniously simple device, visibility at mining sites is about to get a whole lot simpler.
At any given site, there aren't any streetlights for visibility, so operators rely on the lights from their heavy machinery, and regular placement of reflectors.
Reflectors, however, are susceptible to buildup of dust and grime, all of which obscures safety and has to be manually wiped down by teams of workers.
"That interrupts production because [the cleaners] have to put signage in place, they have to have clear radio communications with the trucks to tell them to slow down when they drive past, and there's the massive safety issue of them [possibly] being run over," said Trampas Cutler, founder of Spinflector Industries.
The Spinflector solves this problem: a small, wind-powered device that sits atop 50mm delineator reflector posts and rotates with the breeze, cleaning off the layers of dust as they build.
The Spinflector has been trialed in an iron ore mine in South Australia's Iron Triangle for the past five months, and has worked without incident.
Cutler said that if affordability is an issue, Spinflectors do not necessarily have to be fitted to every single post (as some sites can have 20,000 or more reflectors).
"The delineators are anywhere between 25 metres and 50m apart so on busy intersections it would be good to have it on evey post, but on a long-haul road you could probably get away with having it on every third or fifth post."
The first production run of 2000 Spinflectors will be manufactured in the coming months, and will scale up with demand.
Spinflector
www.spinflector.com.au