BRONZED AUSSIE ON TOP OF THE WORLD IN SKILLS COMPETITION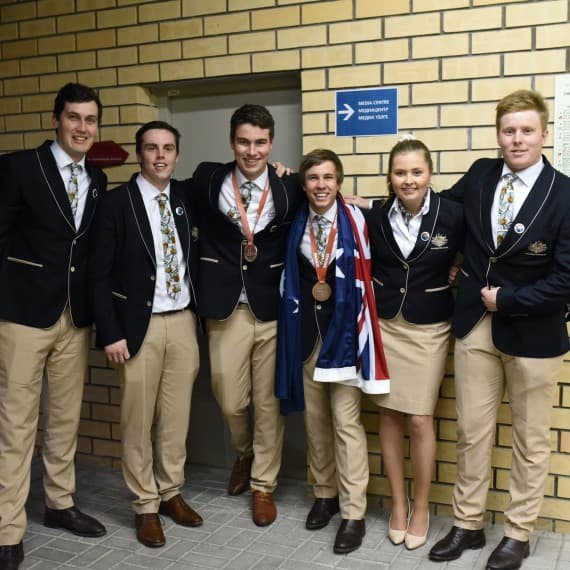 Patrick Brennan (with flag) and some of his teammates: "no greater honour or feeling of pride"
Patrick Brennan, a refrigeration and air conditioning 'Skillaroo' from Queensland, has won a bronze medal at the 45th WorldSkills International Championships, held in Kazan, Russia from 22nd to 27th August. He and 14 other young Australian apprentices and tradespeople competed against talented young people from 66 counties for gold, silver and bronze medals and the title of world champion in their category, in front of crowds totaling 250,000. The team was placed 8th overall, an achievement that comes as a direct result of their skills and hard work.
Brennan is one of the most skilled participants in the history of the competition in Australia. His study at TAFE Queensland and on-the-job training and support from his employer Tony Stephens Refrigeration and Air Conditioning Gympie gave him the skills to win a gold medal at the WorldSkills Australia National Championships 2018. He followed that up with another gold medal and the title of 'Best in Nation' at the WorldSkills Australia Global Skills Challenge 2019.
The 2019 Challenge was the biggest international skills competition held in Australia in 2019, with 500 competitors from 15 countries taking part in 24 categories. The four-day competition was held at several Victorian TAFEs and simulated conditions at international competitions. It was the final training exercise for the WorldSkills Australian skills squad before Skillaroo selection.
The 15 young Australians and their supporters travelled to the historically significant and culturally diverse city of Kazan.
"Russia joined WorldSkills International in 2012, and 7 years later it is already organizing the WorldSkills Competition!" WorldSkills International CEO David Hoey says. "This event contributes not only to our movement, but to the Russian market as well."
Patrick was thrilled with his result. "There is no greater honour or feeling of pride in your country than having the opportunity to represent your country on the world stage," he says. "To gain selection in the Skillaroo's team and to represent Australia is a great honour and I hope I've made my family, my friends, my work place, my town and my country proud."
Patrick's journey has been guided by long-time WorldSkills volunteer, Carl Balke. On top of his work as a leading vocational teacher at TAFE Queensland in Brisbane, he has given almost two decades of his spare time to WorldSkills helping run competitions at regional, national and international levels as well as mentoring countless students.
"It has been a long almost 18 months of organising regional competitions, training for the nationals, waiting for the result to be announced, then training for the next 10 months, but that Aussie fighting spirit that is evident in Paddy makes it all very worth it," he says.