BRONZE AUSSIE ICONS COME TO LIFE WITH A HYDRAULIC HELPING HAND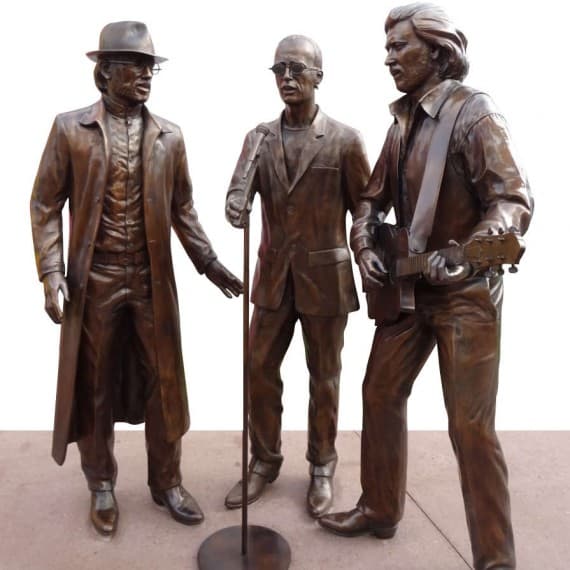 An Australian art foundry with works featured in major public and private spaces and projects around the country uses Enerpac hydraulics to delicately and deftly manoeuvre components of the heavy bronze masterpieces during the casting, assembly and placement processes.
The Perides Art foundry in Brisbane is headed by international sculptor Phillip Piperides. The foundry provides classic, contemporary, sporting and memorial pieces among its range of hundreds of artworks highlighted at major architectural, commercial and construction sites around Australia, as well as in retail, hospitality facility, art gallery and private collections.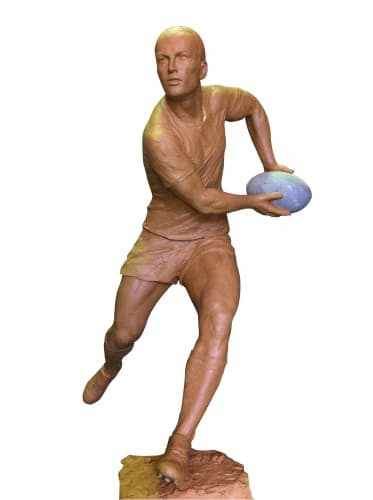 The sculptures range from classic beauties and military themes, to famous figures such as the Bee Gees and Rugby League legend Darren Lockyer, and Brisbane Lord Mayor Clem Jones, each lovingly crafted to the artists' specifications under Piperides' watchful eye. And they are manipulated and moved into place using the same compact, tough, safe and reliable Enerpac 700bar hydraulic technologies proven in the hardest industrial applications, including mining, construction, steel fabrication and manufacturing applications.
The Cyprus-born Australian-raised and globally experienced Piperides is a recipient of the Churchill Fellowship (Sculpture) in recognition of his clay and bronze monumental castings and his artistic experience gleaned throughout America, Europe and Australasia, including private classes here from Russian-born master sculptor George Virine.
But in addition to the artistic sensitivity Piperides shows towards his subjects, there is also the matter of the considerable force requirements and weights encountered in the manoeuvring of often monumentally sized projects that come through the foundry on a regular basis.
"Any casting never comes out perfect, so we use Enerpac equipment to shape and adjust the casting elements to match each other," says Piperides.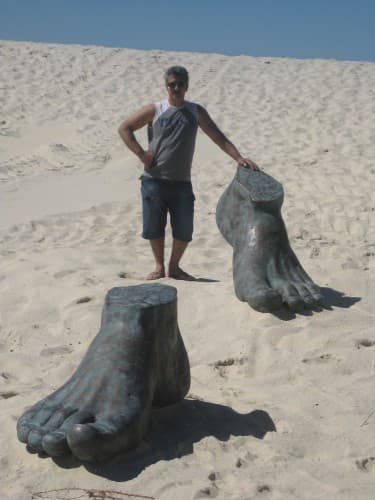 "The sculpture components typically weigh from 10 to 500kg, and are irregular shapes, so there can be a bit of adjustment involved. Sometimes too we need to press out sections with some deformation, such as where welding lugs have pulled at the base – so we adapt the Enerpac tools for the pressing task."
It is heavy and painstaking work, which was previously accomplished using older, less reliable and less precise manual and hydraulic technologies now replaced by compact and powerful 700bar Enerpac gear.
The RSM 50 5t-capacity low-height cylinder, RC 55 5t single-acting cylinder and easily portable P392 hand pump were specified and supplied by Enerpac Territory Manager – SE Queensland and Northern NSW, Sandy Whyman.
Phillip Piperides' sculpture components typically weigh 10-500kg
SM Flat Jac and complementary RCS series cylinders, in capacities from 5 to 150t with strokes from 6 to 62mm, are designed to offer maximum power-to-height ratios for working in inaccessible or awkward spaces.
RC series general purpose cylinders, in capacities from 5 to 95t, with strokes from 16 to 362mm, are a workhorse of Australian mining, construction and infrastructure sites, where they are valued for their reliability and Enerpac service and safety backup.
P392 hand pumps are part of the P series of versatile easily portable hand pumps with large oil capacity to power a wide range of cylinders or tools. The 4.1kg P392 used by Piperides features two-speed operation to reduce handle strokes by as much as 78 per cent compared with single-speed pumps. They easily actuate the cylinders, attachments and WR5 Enerpac spreader used to manoeuvre, bend and straighten solid objects.
"These tools are globally proven in tough applications – ranging from mining and construction, through to steel fabrication and manufacturing – so they are ideal for applications such as this requiring the reliable, safe and precise application of force," says Whyman.
"The sculptures handled by Mr Piperides and his staff are precious and wonderful objects that deserve the greatest of care, respect – and considerable power to manoeuvre them this way and that."
"So hydraulic power proven in tough industries was also just right for this artistic application," said Whyman, who also advises architecture, construction, engineering, mining and other Enerpac customers on the best, most efficient and safest tools for the job.
Piperides says Sandy Whyman provides exemplary advice and service: "She is wonderful actually. We have no doubt that we will find uses for other Enerpac tools she has shown us, as we move along."
"We can see many uses for Enerpac pull cylinders, for example, which could be very useful in foundry applications. But for now, we are very happy with the quality and versatility of the tools we have, and we will use them as a base for future expansion."
Enerpac
02 8717 7200
www.enerpac.com.au