Broad range of 'uplifting' courses offered by LEEA UK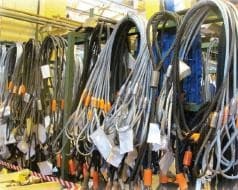 LEEA now offers its members a training accreditation scheme for end user training.

The Association has developed a range of courses covering key areas of interest to the user of lifting equipment.

LEEA member companies can choose courses that are presented to an agreed syllabus and timescale.

Delegates are assessed by written and practical sessions.

If successful, they are awarded a training certificate accredited by LEEA.

Member companies are audited and approved by the Association and present courses with LEEA accreditation.

LEEA maintains a database of trainees allowing verification of training.

Courses include:
Electric Overhead Travelling Crane (Operation and Slinging) – 1 or 2 days
 
Lifting and Slinging (Practical) – 2 days
 
Lifting Equipment Inspection – 2 days
 
LOLER & PUWER seminar – 0.5 day
 
Management of lifting and slinging – 2 days
 
Rigging and Slinging Seminar – 1 day
 
Wire Rope Inspection – 2.5 days
 
Wire Rope Socketing – 2 days
New courses are developed and added on an ongoing basis.