BRITISH STEEL LAUNCHES REVOLUTIONARY NEW RAIL PRODUCT
13-06-2016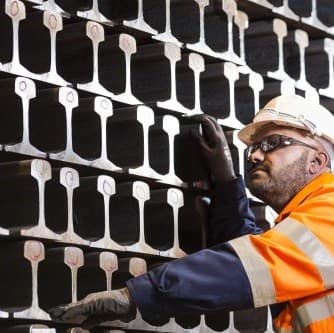 British Steel, the UK-based manufacturer of premium steel products, has launched a revolutionary new rail product, which can withstand the rigours of being laid in some of the most corrosive of environments.
The new product, Zinoco®, is a premium coated rail that can be installed in harsh environments where corrosion is expected to be the main cause of future rail replacement such as coastal lines, wet tunnels, level crossings, mineral lines and salt pans.
Zinoco®, the name of which derives from the words "Zinc for no corrosion," offers superior corrosion protection compared to all current rail coating technologies on the market.
Contracts have already been secured across the UK, Ireland and France. British Steel's Rail Sector Head, Richard Bell, said the product was developed at the business's headquarters in Scunthorpe and that extensive testing shows Zinoco® will typically outlast traditional uncoated rail by around five times in a broad range of aggressive environments.
Richard said: "This is an exciting time for British Steel and Zinoco® is a great example of our innovation and development of premium products for the global market place. Our highly-skilled employees create and manufacture world class steel every day and we are proud of the response Zinoco® has already received."
"It was developed by British Steel in direct response to Network Rail's requirement for more durable corrosion protection, Mr Bell said. "Network Rail called for a coating that would withstand the rigours of real-life installation and use. "We have become increasingly aware that many customers have to replace rail prematurely due to rapid corrosion in isolated segments of their network. We have developed Zinoco® to dramatically delay the onset of corrosion of rail in the broadest range of railway conditions. "We are committed to the development of innovative products to help our customers improve the whole life cost of operating their railway infrastructure and I'm sure this will be another valuable contribution to the achievement of this objective."
Network Rail was looking for an impact-resistant product that would withstand minor mechanical damage and offer sacrificial protection to provide long term protection. Protection against stray current corrosion was particularly important. The Zinoco® product provided the most complete protection against the full range of specified requirements of the many options that were tested.
Sacrificial protection is an electro-chemical reaction which occurs when the anode sacrifices itself in favour of the cathode. The resulting flow of electrons prevents a corrosive chemical reaction. With Zinoco® coated rail, the zinc rich (anode) coating corrodes in preference to the steel (cathode), therefore preventing the steel from corroding. The zinc oxide creates a strong barrier to further corrosion – in this way the protection of the metal is guaranteed, even when the zinc layer is slightly damaged.
The new Zinoco® plant has been built at British Steel's Scunthorpe Rail and Section Mill (SRSM) and the automated facility means Zinoco® rails can be coated more efficiently than the previous coated rail product.