BRITISH CAR MANUFACTURING HITS A SPEED BUMP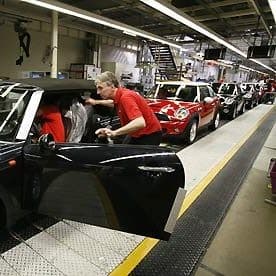 British car manufacturing has fallen over the first 10 months of the year as the first signs emerge that UK car production is being hit by rising global economic uncertainty.
The number of cars rolling off UK production lines was down 0.3% compared with the same period in 2013, at 1.28m vehicles according to the figures from the Society of Motor Manufacturers and Traders (SMMT).
The dip was driven by a fall in demand overseas, with the number of cars built in British factories but destined for export down 1.4% at a just over 1m.
British PM David Cameron told the Guardian newspaper that "red warning lights are flashing on the dashboard of the global economy."
This presented a real risk to the UK economy.
The SMMT admitted global economic uncertainty was weighing on demand for British made cars, but argued recent investment in UK production would support the industry.
"The UK's car manufacturing industry is still in a strong position in spite of the growing uncertainty surrounding the global economy," said Mike Hawes, SMMT chief executive. "Billions of pounds have been invested into UK facilities in the past two years, with several new models starting production this year and more in the pipeline."
As 2014 draws to a close, forecasts that car production will increase to 1.59m cars this year from 1.51m in 2013 look increasingly at risk.
The last year UK car manufacturing fell was 2009, at the height of the financial crisis.