BRISBANE MANUFACTURING FIRM TRUMPS SILICONE VALLEY HEAVYWEIGHTS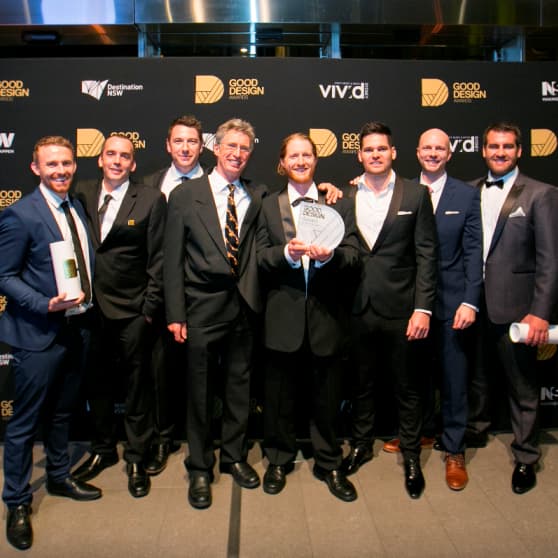 Brisbane based product design and manufacturing firm Evolve Group has won the coveted 2016 Good Design Award of The Year at the annual Good Design awards in Sydney.
Hundreds of international companies, including Tesla, Google and Audi were no match for Evolve Group's entry Flow Hive which cemented their victory.
Evolve Group shared the win with Cedar and Stuart Anderson, the inventors of the Flow Hive, an innovative beehive launched last year via crowdfunding.
The Flow Hive campaign broke records and went on to sell over US$12.4 million in just 30 days with Flow Frames now distributed to 128 different countries worldwide.
Evolve Group was responsible for the design for manufacture and design optimisation of the Flow Hive product as well as the end to end fulfilment of the global orders, all from their new product development facility on Brisbane's Southside. 
Evolve Group's Managing Director Ty Hermans said there are so many great opportunities to design award-winning products and preserve manufacturing in Australia, and Evolve Group are revolutionising the industry with their unique approach.
"With many manufacturers struggling to keep their doors open, we have continued to grow and are reshaping the manufacturing industry in Australia," Mr Hermans said.
"We have such a rich history of innovation in this country, and there are a lot of great products being designed in Australia but the manufacturing is often completed elsewhere, we are providing Australians with the means to produce their products in Australia and reap the rewards of local manufacturing".
"The key is concentrating on what we can do well and putting focus on great product design and cutting edge manufacturing technology which will keep Australia's manufacturing future bright," he said.
Working with customers from beginning to end is what results in Evolves high success rate.
"We often start working with a customer right from the lightbulb moment of a new idea, all the way through to manufacturing and successfully launching conventionally or via crowdfunding and ultimately getting it on the shelf of a major retailer anywhere in the world," Mr Hermans said.
"To date we haven't partnered on a project that hasn't been a success and that's a great feeling."
Mr Ty Hermans said manufacturing products in Australia is cost effective while contributing to Australian jobs.
"It's very frustrating every time a project is taken offshore before considering getting a local manufacturer to quote on the work," Mr Hermans said.
"We are actually re-shoring jobs that went to China years ago as we demonstrate the many benefits of working with a local supplier that extend far beyond just cheaper part costs."
Evolve Group was established in 2006 by Ty Hermans, a 33 year-old Brisbane based inventor and businessman.
Evolve won two awards at the 2015 Good Design Awards and were listed as one of BRW's 50 most innovative companies of 2015.
Specialising in end-to-end product design, development and manufacturing in Australia at their purpose built facility, Evolve are setting the benchmark for the future of Australian manufacturing.