BRISBANE ENGINEER TUGS ON YOUR HEART STRINGS
03-02-2015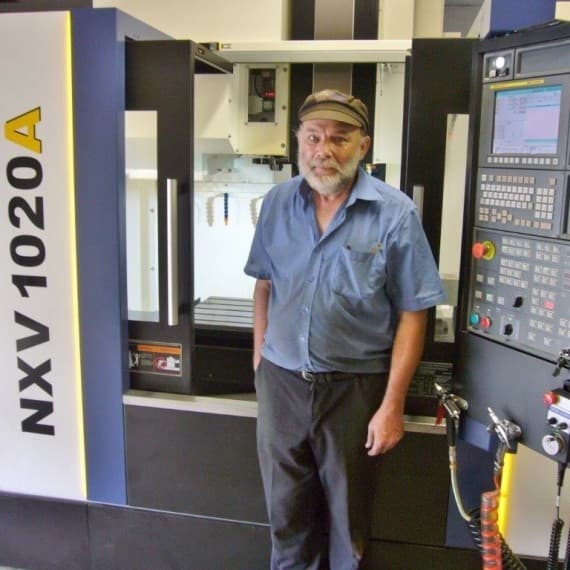 What is the connection between Brisbane-based steam enthusiast Chris Wilson and singer Kylie Minogue?
The answer is the SS Forceful, the veteran steam tug that served Queensland so well but is now under threat of being consigned to the scrapyard.
It is thought that Forceful may be the last surviving ship built by the famous Clydeside Yard of Alexander Stephen & Sons, where she was Yard Number 509. Launched on November 20, 1925, she is a surviving testament to the skills of Scottish shipbuilders.
The coal-fired vessel made a cameo appearance in the 1989 film The Delinquents starring a young Kylie Minogue.
Now Chris and his friends at the Queensland Maritime Museum Association are struggling to raise the funds needed to save an important icon of the State's history – and he wants to tug on your heart-strings.
He says: "Forceful is the last of a very long line of ships driven by coal-fired boilers and reciprocating steam engines to have plied the majestic reaches of the Brisbane River. 
"But now, the future for coal-burning steamships in Australia looks bleak. The Association urgently needs help to save the SS Forceful and its larger coal-fired cousins the SS River Embley and SS River Boyne that are due to retire from service."
Over several decades, Chris has been in love with steam-driven machines, and has been involved with the repair and maintenance of locomotives, traction engines, road rollers, many types of boat, and stand-alone steam engines in industry.
He has helped to keep the Forceful afloat by serving as "ship's engineer," which has meant doing jobs ranging from repairing the 1050 hp engine to shoveling coal in the boiler room.
When you are good at something, the word gets around, and that has happened to Chris Wilson.
A youthful Chris rapidly developed a flair for designing and making things from metal and other materials.
He acquired his first lathe when only 17, having already been to the railway yards to see the full-sized steam locomotives of the day.
Trading as SteamTech, he has designed and made thousands of "spare parts" for many types of steam engine, and has participated in variety of projects by his fellow steam enthusiasts.
A proud moment was driving the quarter-sized replica of the mighty Mallard, the locomotive designed by the legendary Sir Nigel Gresley – and still the holder of the world speed record for steam locomotives at 202.58 km/h – set in July 1938.
However, Chris has a second obsession – accuracy –and has happily embraced the benefits provided by CNC lathes.
Many of the components he designed and manufactured over the years had to be recreated for another customer. He had to start each job from scratch.
In recent years, the designs and specifications of many of these jobs have been entered into the CNC of his latest lathe, and it takes only a few minutes to perform set-ups that once were time-consuming.
Chris has recently acquired a brand-new YCM vertical machining centre, equipped with a Fanuc control.
The NXV-1020 is proving a boon in two ways. Firstly, it has increased Chris's productivity in his daytime job of producing replacement parts for 4x4 vehicles, in concert with local firm Superior Engineering.
Chris works closely with Superior's managing director, Michael Hayes, in manufacturing sturdy parts for suspension and steering parts, tie rods, drag links, radius and Superflex arms, suspension brackets and many more items.
"In addition to the choice of materials, accuracy and fit are crucial," Chris says. "You wouldn't want a suspension-collapse when you are a 100km beyond the Black Stump!"
The new YCM machining centre also is helping Chris to respond quickly to any SOS from the steam-loving community.
"The spare parts needed cannot be sourced from OEMs – most of the firms have long disappeared – and so new components have to be manufactured, mostly as one-offs," he says.
The NXV-1020 has been supplied to SteamTech by the sole distributor in Australia for YCM, Sydney-based 600 Machine Tools.
The new vertical machining centre is the first in its range to become available in this country, and the second is now being demonstrated in the showroom in Salisbury Brisbane.
It is designed as a stable machining platform. The rigid body construction makes for uncompromising precision and rigidity. FEM analysis has ensured the best mass arrangement and rib construction of the machine for constant stability under the demanding load of heavy-duty cutting.
The 18.5 kW motor delivers spindle-speeds up to 12,000 rpm, and the IDD spindle has a BBT 40 taper. Direct drive provides backlash free operation, with superior stability, accuracy, and reliability.
The axial AC servo motors are equipped with Absolute Positioning Encoders – i.e. zero return is not needed. For Steamtech, the machine has been fitted with  4th axis capability, and a table of 1,120 by 520 mm.
On this model, the tool capacity is 24. The machine has an automatic tool-magazine door-design that is driven by a pneumatic cylinder, and it prevents coolant and chips from entering the tool magazine.
The magazine incorporates an absolute encoder ATC system that ensures high stability and speed. The tool-change speed is programmable for heavy tools.
The managing director of 600 Machine Tools, Cliff Purser, says: "Yeong Chin Machinery (YCM) is a Taiwanese company that operates a rigorous ISO-9001 quality assurance system, and has grown to be one of the world's most respected designers and builders of sophisticated machine tools.
"Based on long experience with YCM's vertical machining centres, I am confident that the NXV-1020 will exceed the requirements of Chris – wearing either of his hats – and will enable SteamTech to provide accuracy, speed, and reliability to his customers in Brisbane and further afield."
600 Machine Tools
Ph: 02 9674 4738